Meet the Creative: An Interview with Interior Designer Zoe Perks
In the first of our Blog series 'Meet the Creative' We are thrilled to interview  Award Winning Interior Designer Zoe Perks, creator of Beautiful Rooms by Zoe and winner of this year's Grand Designs Live, Room Set 2018.
Zoe's relaxed yet luxurious take on traditional style stole the show with an intimate and feminine design. Combining the beauty of faded grandeur with an opulent rustic chic, Zoe conjured all the romance of vintage Provencale.
We caught up with Zoe to chat about her Award Winning inspirations, design advice and those ever intriguing style predictions for 2019.
What was the inspiration behind your award winning Roomset Design
Relaxation and indulgence was my ultimate inspiration, closely followed by my love for age, tradition and patina – the kind you see in rustic old French farmhouses or run down Georgian town houses. I wanted to create the ultimate inner sanctuary. A place to escape the stresses and strains of everyday life.
What guided your decision to include a bathtub in a bedroom set?
My two favourite ways to relax are morning coffee in bed and soaking in the tub. Bathing is not a function, it's a past time. It's been a dream of mine for years to have a bath in my bedroom; it's something you often see it in posh hotels so why not have it at home. To me, it's a no brainer that the two things should go together under one roof space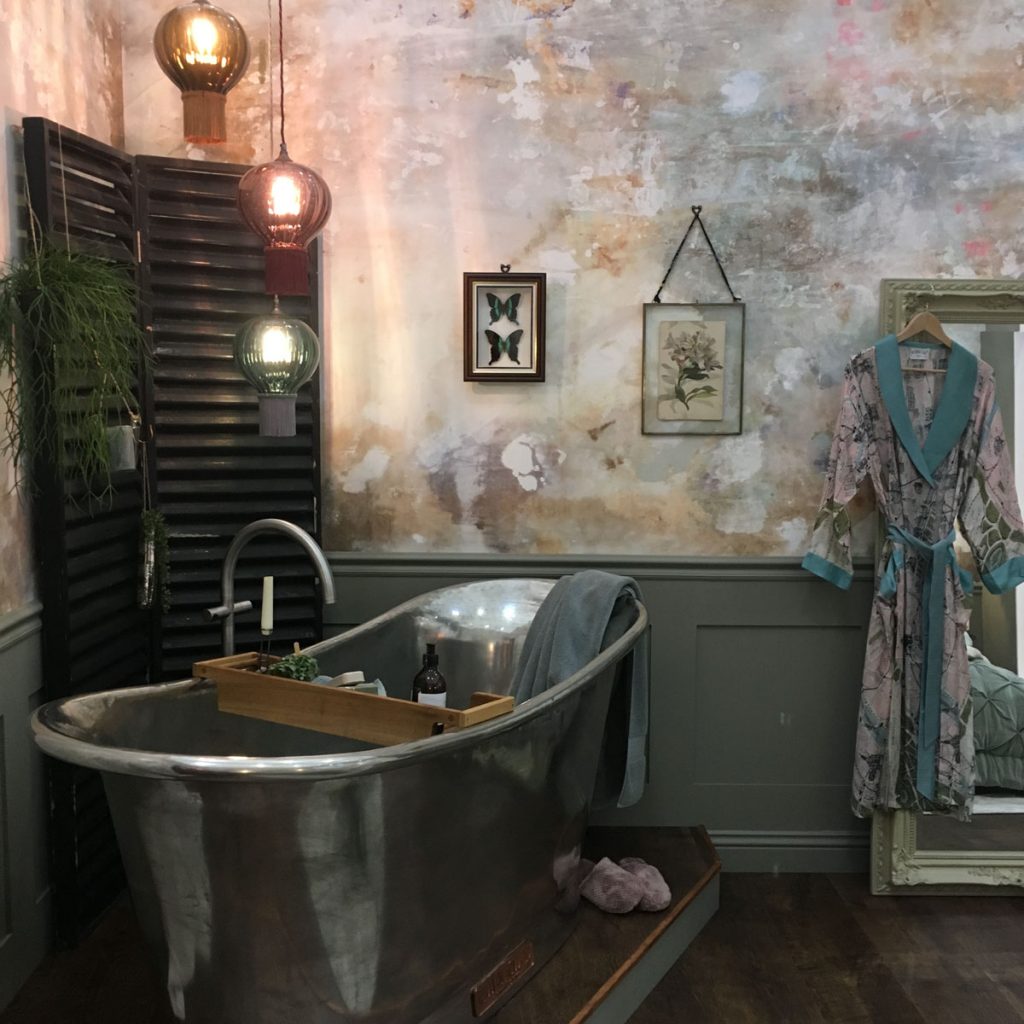 What colours, textures and furniture pieces do you love the most?
It's almost impossible to pull out pieces individually. The amazing thing about creating this room-set is I got to choose absolutely everything that went in it – fulfilling all my personal desires. Each and every piece works in isolation, but is elevated to a whole new level by the carefully curated textures, materials and pieces around surrounding it. From the heavily patinated tin finish of the beautiful Bateau bath, to the luxurious velvet bedding, or the smooth curves of the hand-blown pendants to the rough look finish of the amazing wall mural. For sure, the most commented on pieces by the visitors were your stunning bath tub and the wall mural by Feathr.
How would you describe your design style? Do you have a signature touch with your designs?
I would say my style is grounded in tradition. I adore the architecture and design from the Georgian, Victorian and Edwardian eras, which appeal to my inner maximalist, but I absolutely love to see that mixed up with more modern touches – especially the simplicity and elegance of mid-century and Scandinavian design. A lot of my design will have elements of these things in them, but I aim first and foremost to design based on what works best for my clients. It's their home I'm helping to build, not mine, and that's really important to me.
Do you have any design rules?
Only one. Curtains have to reach the floor. What is it with curtains that skim the sill? Not only do they look silly, they make the room look shorter too – drawing your eye to that mid line – and not in a good way. If you have a radiator and don't want to hide it behind curtains – have a blind. Simple. Rant over.
Do you have one golden piece of design advice?
Focus on how you want the space to feel, and surround yourself with things you love (oops, is that two?). All too often, people focus on creating a look – generally something they've seen on Pinterest or their Instagram feed. While that's all well and good for inspiration, it's not something that's truly personal to you; looking at it and living it are two different things. I genuinely believe you have to focus on how you want to feel in that space when you're creating a design and often that feeling comes from the things that are really personal to you – maybe that you've collected over the years. Use those as inspiration. And if you're starting from scratch, try not to be led by trends, be led by your heart – I guarantee you will love it more.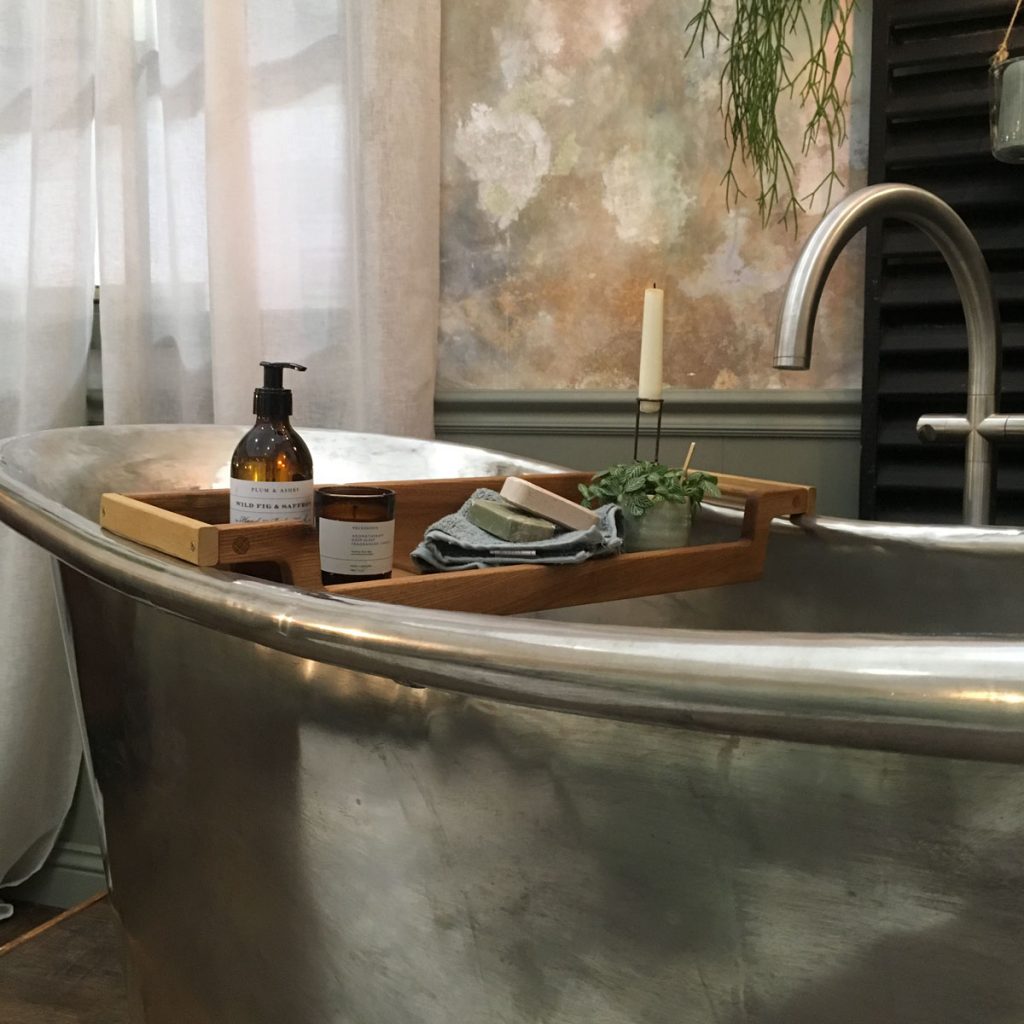 What do you love most about being a designer?
Mostly, it's seeing the joy and excitement on my clients faces and knowing that I'm creating spaces that will give them pleasure each and every day.
In your opinion, which will be the top trends in interior design for 2019? 
It was Coco Chanel who said "Fashion passes, style remains". Who am I to question her genius……? Seriously though, I tend not to pay too much attention to trends (shock horror), for the reason I mention previously – design should be personal and trends are just that, short lived.
That said, one thing I do think we'll see a lot more of is colour. Grey, in all its guises, has become the go to colour for many homes, to the point where it is now just another neutral.  While it's been a great levelling colour to tempt the beige brigade over to something a little more 'out there' I think it's time to start exploring the wider colour spectrum as we look to create more individual, personal spaces. Little Greene have just launched an entirely new Green palette, Farrow and Ball, announced nine new colours in rich greens, deep reds and vibrant pinks, and Dulux named Spiced Honey their colour of the year. Watch out everyone, colour is coming to a home near you, and I personally can't wait.
For further inspiration and style advice you can find out more on Zoe's Website or Instagram profile where you can follow her latest exciting projects, renovation ideas and design inspirations.
Website: Beautiful Rooms by Zoe
Instagram: Beautiful Rooms By Zoe