This year we were lucky enough to collaborate once again with acclaimed Glass Splashback Designer Emma Britton as she toured the world Famous Floral Events RHS Chelsea and Tatton Flower Show with her new collection.
We caught up with Emma to discuss her inspirations, latest collections and design goals…
What was the inspiration for your exhibit at this years RHS Chelsea and Tatton Flower Shows?
I always like to do something different at any flower shows or trade events I'm participating in. Celebrating my glass product lines in fresh and new ways is really important to me when I exhibit; my brand is about constantly evolving and innovating so whether its designing a new splashback collection, glassware lines or thinking about how to show them off, pushing the experience of my designer looks for people interested in my work or coming across me for the first time is key.
What aspirations do you hope to encourage through your events?
At events I like to do something show stopping, and inspire people about how they can use my decorative glass splashbacks and accessorise their homes. With my glass splashbacks its always about making it easy for people to see how materials and patterns can work together to create an original and personal interior, something totally unique that they will get years of enjoyment from.
What was your design focus this year?
For the 2022 RHS Chelsea and Tatton Flower Shows I opted for some gorgeous sink styling. A perfect William Holland Gyrus basin in brass stepped up for the role and really looked the part paired with my hand painted and custom made gold glass surround, styled with my Sunset Splashback design as the backdrop.
Sunset is a bold splashback design capturing the beauty of orange fritillaria imperialis in the sunshine with a subtle shadow, inspired by a trip to Kew Gardens when these strong, architectural flowers were at their fullest, standing tall.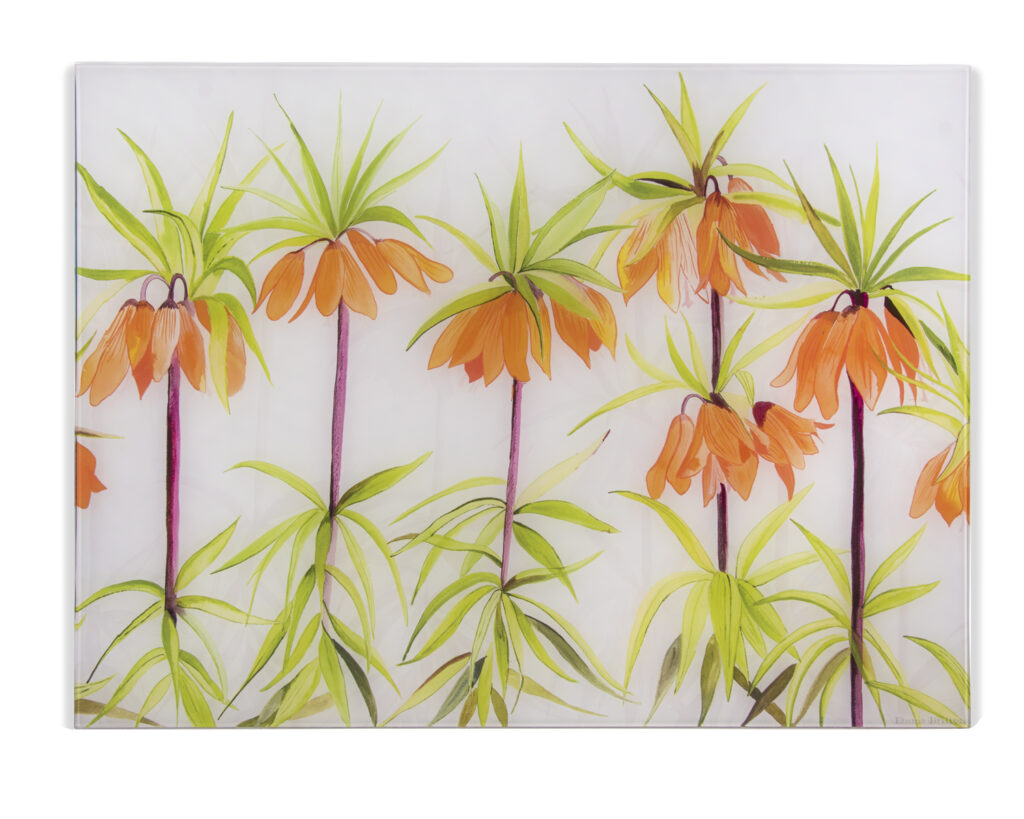 Sunset Design Splashback
"What I wanted to create with the shows at Chelsea and Tatton was a look people can achieve at home. Hopefully it helps people to think outside the box and be aspirational about what they can enjoy every day – no more boring bathroom interiors, vanity units or sink surrounds! The styling shows you how you can mix textures and patterns for a beautiful, liveable look. William Holland's Gyrus basin is the absolute complement and finishing touch for this concept."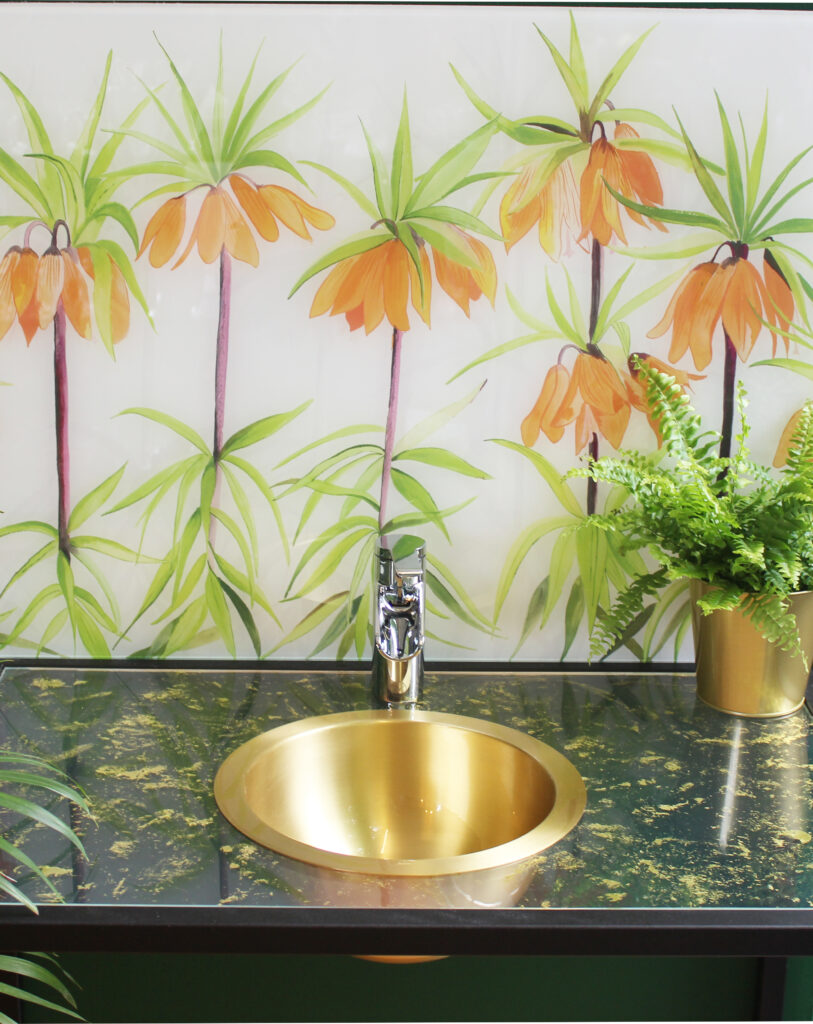 The RHS Flower Shows in particular are a really perfect fit for my decorative glass splashbacks which mostly have a signature floral style. This year however, it's been exciting to bring in my expertise as a surface designer, and elsewhere in the exhibit visitors could see my 'Decadent Green' Heritage Luxe Splashback within a glass bar set up. I used the same technique that creates my Heritage Luxe splashbacks to complement the Gyrus basin creating a hand painted gold glass top for a stylish finish.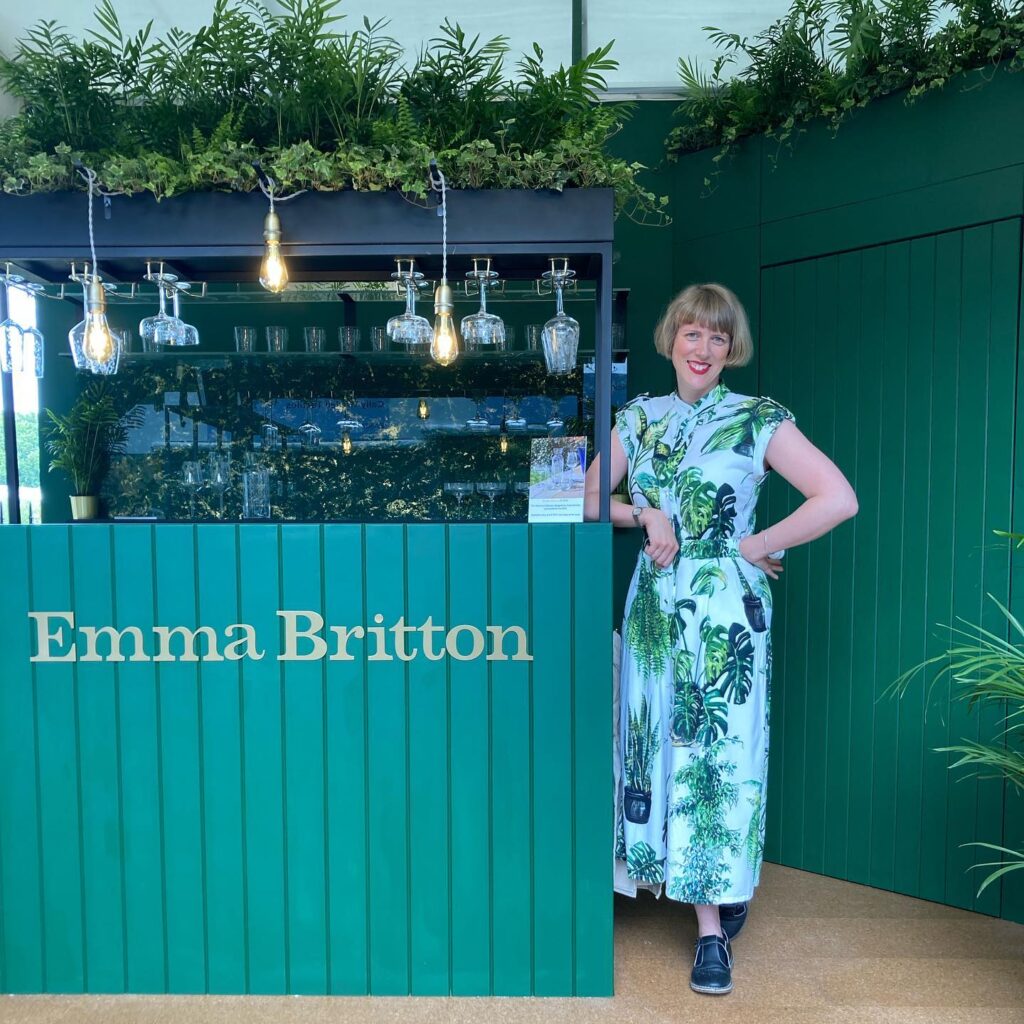 What guided your decision to create a stylish set up for sinks at this years RHS flower shows with the William Holland Gyrus basin?
I've worked with William Holland in the past where I styled my Rain Garden splashback with a beautiful copper bath. The Gyrus basin in brass that I chose inspires a similar luxe look; the bath was such a showstopper at RHS Chelsea 2019, I knew the Gyrus was going to be equally stunning.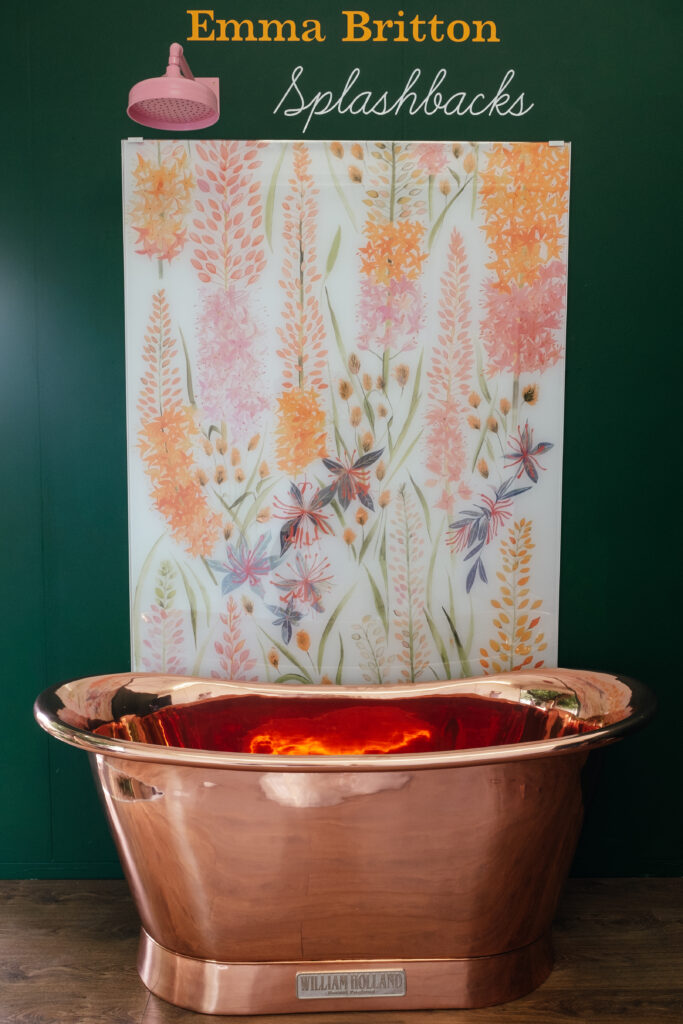 I decided to create a stylish sink scene as it's one of the most used features in our homes in recent times and there's so much scope to be playful with this space. You'll see I popped my new 'Willow' etched glass mirror into the set up to further accessorise the look. These will be available online, as made to order items soon.
I love the Gyrus basin for its flexibility too, it can be deck mounted, under mounted or inset and is also available in the full range of specialist William Holland finishes. It really suits a contemporary look and was a stylish pairing for my Sunset splashback design – tonally, it felt like the brass really worked.  I can really see the Gyrus in more traditional interiors too, it has that unique quality of being something that can be bold or subtle, depending on the rest of the interior design.
About Emma Britton
Emma Britton is an award-winning decorative glass splashback designer. She founded her independent glass studio and eco-friendly brand Emma Britton Decorative Glass Designer in 2010. Emma is now the specialist for beautiful, British designer-made glass splashbacks and hand finished glassware in her signature floral style for modern living. Emma sees 'glass as a canvas on which to apply pattern, sometimes opaque, sometimes translucent'. She loves to design in gouache, creating repeat patterns and statement looks for her glass splashbacks and other home accessories.
A thriving lifestyle brand, Emma Britton splashbacks are found in homes across the UK, whilst her glassware features in independent shops and galleries nationwide and internationally.