We are thrilled to announce our appearance at this year's world renowned Chelsea Flower show as part of Decorative Glass Artist Emma Brittons' latest showcase. Launching her brand new design 'Rain Garden' this stunning hand painted splashback focuses on plants that are able to both survive and thrive during climate change. Standing over 2m tall the bespoke panel features Foxtail Lilies and delicate Grasses, illustrating a sense of beauty and hope for the future as we adapt to our changing environment.
The bespoke William Holland Petit Bateau was created exclusively for Emma and the show by our team of Master Craftsmen in Dorset. Made from sustainably sourced pure copper this dainty bathtub demonstrates luxury and sustainability working together in perfect harmony.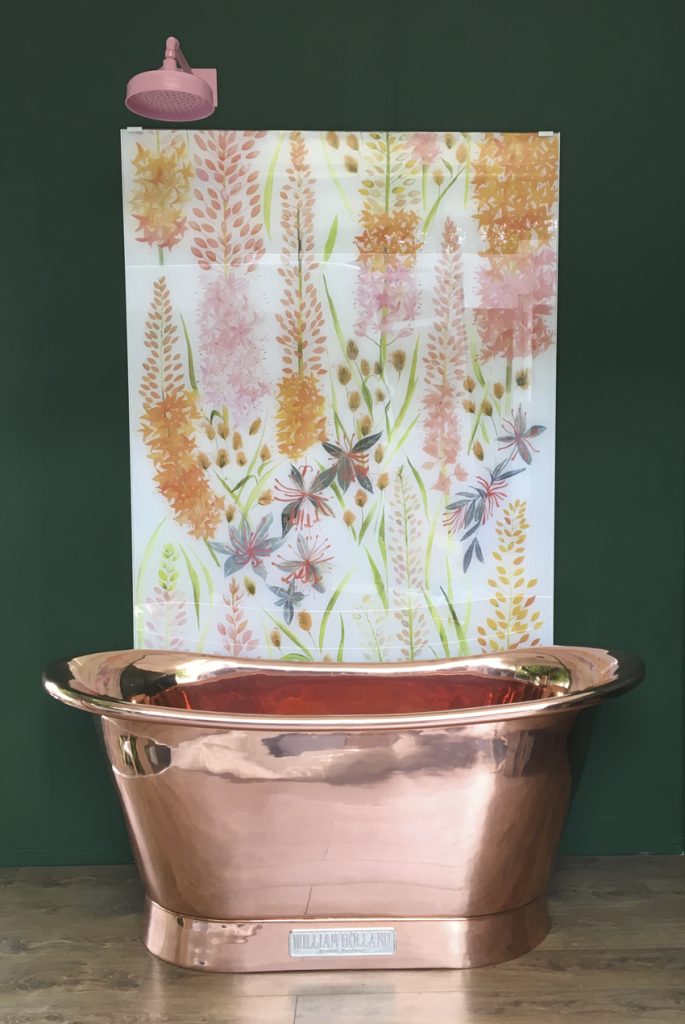 Combining the trend for natural materials with reduced water usage due to its clever ergonomics and size the Petit Bateau provides both comfort and a conscientious bathing experience. Meticulously handcrafted using traditional artisan techniques handed down through the generations this charming copper bath is a sculptural work of art.
Emma created her stand to 'inspire people to be creative with how they approach bathroom design.' Creating a sense of calm using colour and 'fabulous florals' the bespoke glass splashback interweaves copper leaf amongst the on trend coral, salmon and orange tones to compliment the vibrant copper bath.
Showcasing pattern design with a conscience, Emma Britton's hand painted floral splashbacks bring nature indoors on a grand scale. Intended as part of Emma's latest collection GLASSHOUSE, the Rain Garden panel forms part of a collective inspired by garden design and plant growing.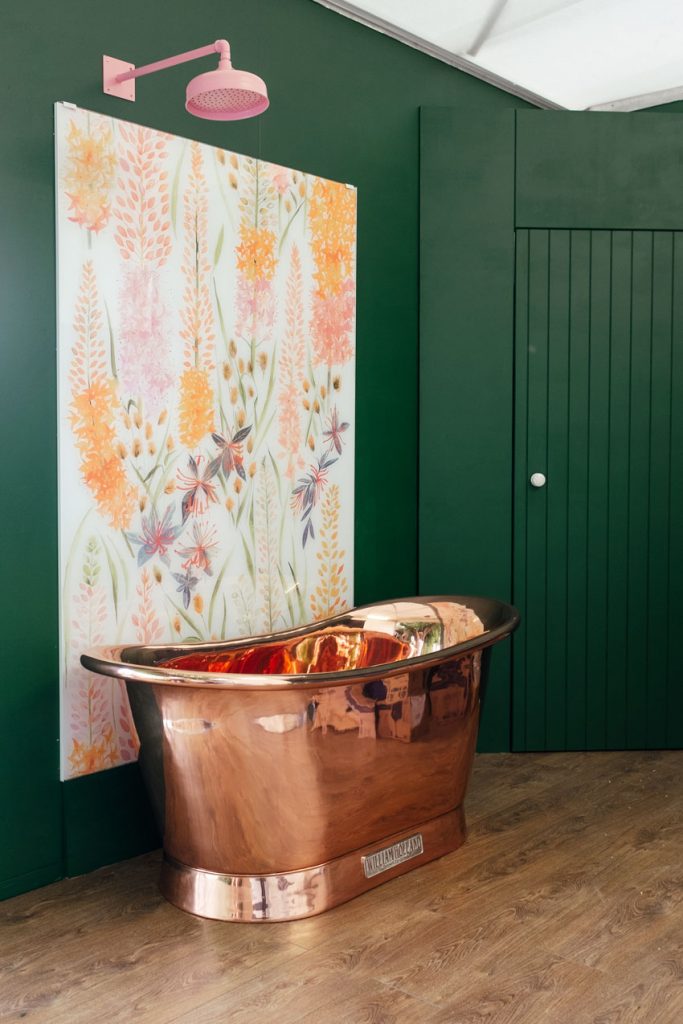 With sustainability and climate change at the heart of this year's show, Emma's design with a conscience is the perfect addition to this world famous exhibition.
If you are lucky enough to attend this year's show, be sure to pay Emma a visit on the Eastern Avenue Stand 412 to view her stunning work.
For more information please visit Emma Britton Decorative Glass