The very embodiment of 'Hygge', everything about this extraordinary space invites you to slow down, relax and simply be….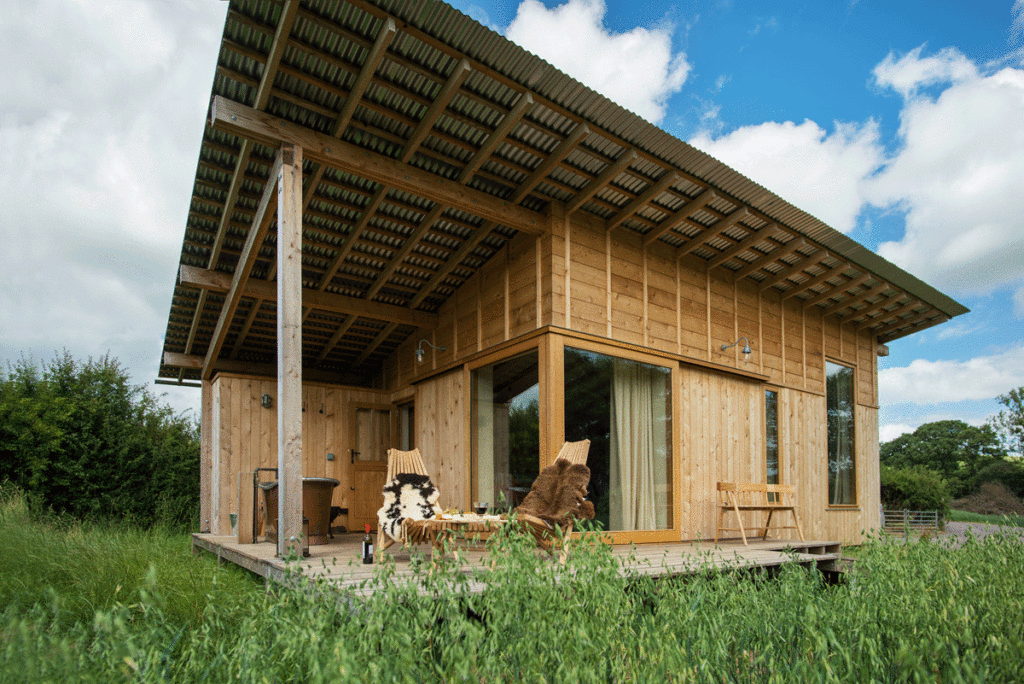 With its minimalist appeal the smooth wood and clean lines of Holly Water Cabin could be straight from the pages of a Scandinavian lifestyle magazine. Yet, despite being distinctly 'Nordic' in style, leather furnishings, stone details and copper craftsmanship showcase the local sourcing.
Using, natural materials and the latest eco-build design, the seamless transition between indoor and outdoor living is delightfully transient. Sliding back the floor to ceiling windows wildness blends with indoor luxury in one perfectly versatile space. Guests can recline on the sofa immersed  in the pristine views, enjoy a secluded coffee or cocktail from the treehouse deck, or sink into the outdoor copper bath, for sunset bathing and dark night stargazing.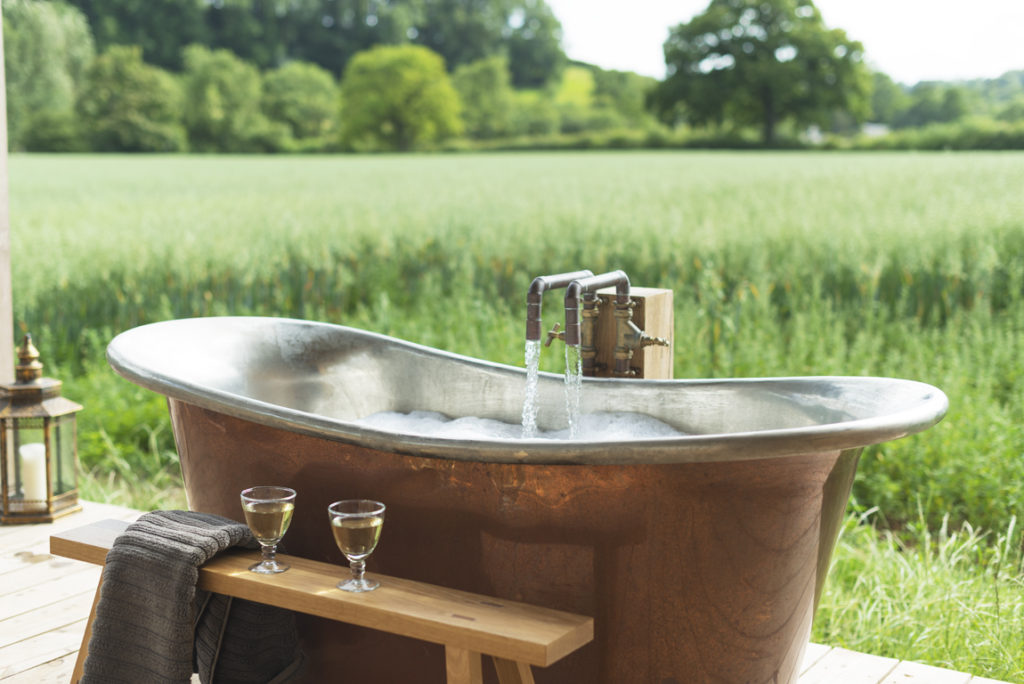 "The bath, by far and away, is commented on more than anything else by our guests. They all love it. It's super-comfortable, fits two, keeps the water hot in an extraordinary way and looks fabulous." – Holly Water Cabin
Handmade using traditional artisan techniques the natural raw copper of this bespoke finish bathtub is designed to age gracefully in tune with the environment. Differing from the mirror shine tubs for which we are known, this deliciously raw aesthetic  reflects the deep connection with nature that infuses the cabin. Sustainably sourced, fully recyclable and made to last, the natural beauty of the handmade bath creates a luxurious and eco-conscious addition to the experience.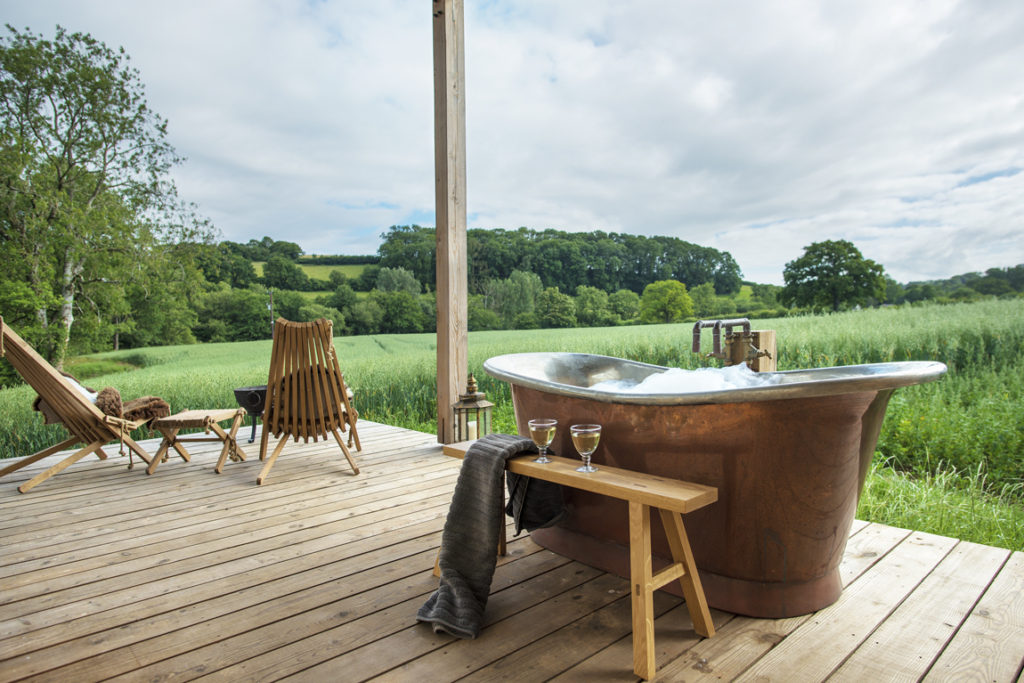 With part of the land surrounding the cabin given to the creation of wildlife habitats, deer and kingfishers, otters, barn owls and all manner of Great British wildlife call this area home. With a deep dedication to conservation tangible throughout the design, it is no wonder that sustainability is at the heart of Holly Wood. Stunning energy efficiency, solar panels and a ground source heat pump provide what little is required whilst water comes from a private borehole on the land.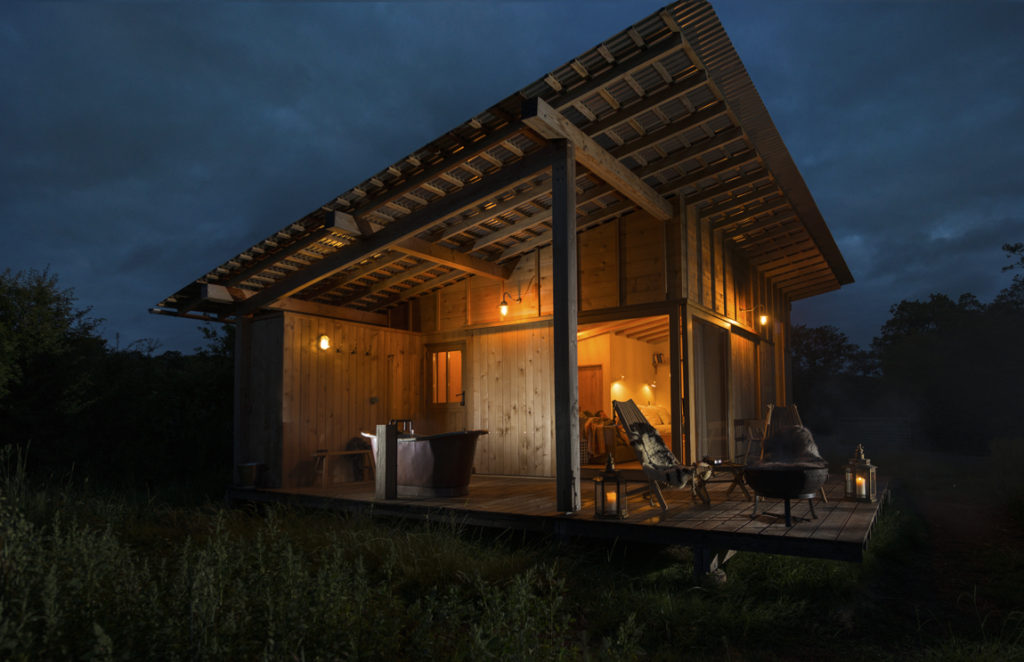 For those searching for a luxurious escape and a touch of 'back to nature' wild, there is no doubt that Holly Water Cabin could just be your perfect piece of 'Devon on Earth.'
For more information please visit: Holly Water Cabin