'The Bitterness of poor quality remains long after the sweetness of low price is forgotten' – Benjamin Franklin
It is a simple fact of life that as consumers, we must regularly endure the anguish and brain twisting battle of choosing between the quality of a product and the price we have to pay.
For most of us, budgets are finite, dreams demand compromise and the allure of a bargain is deeply ingrained in our collective consumerist psyche. Following decades of intense bombardment with sales, negotiation and marketing speak, the mere mention of a 'deal' sets our reward receptors aflame with delight!
But this addiction can leave us vulnerable, clouding our judgement into believing we have won a deal when often that is just not the case. Remember… 'if it's too good to be true… it probably is.' More often than not, accepting lower quality due to price constraints actually increases the spend over time. Fixing costly mistakes, correcting what was done incorrectly before, or replacing inadequate products long before their natural expiration date is the ultimate false economy.
We spoke to interior stylist Jodi Martin-Flaven of the fabulous @bijoubarn who contacted us for help when this precise scenario took place. Jodi purchased a bargain copper bath from a non-specialist retailer. Here is her story…
'We had been so excited to have a large freestanding bathtub and re-designed and extended our entire bathroom to do so. After much searching we finally purchased what we thought would be our dream copper bath at what felt like a great price from an alternative (Not William Holland) Copper Bath supplier and eagerly awaited it's arrival…
At first all seemed well, but whilst the bathtub initially looked beautiful almost straight away I began to notice dark spots forming on the copper bath exterior.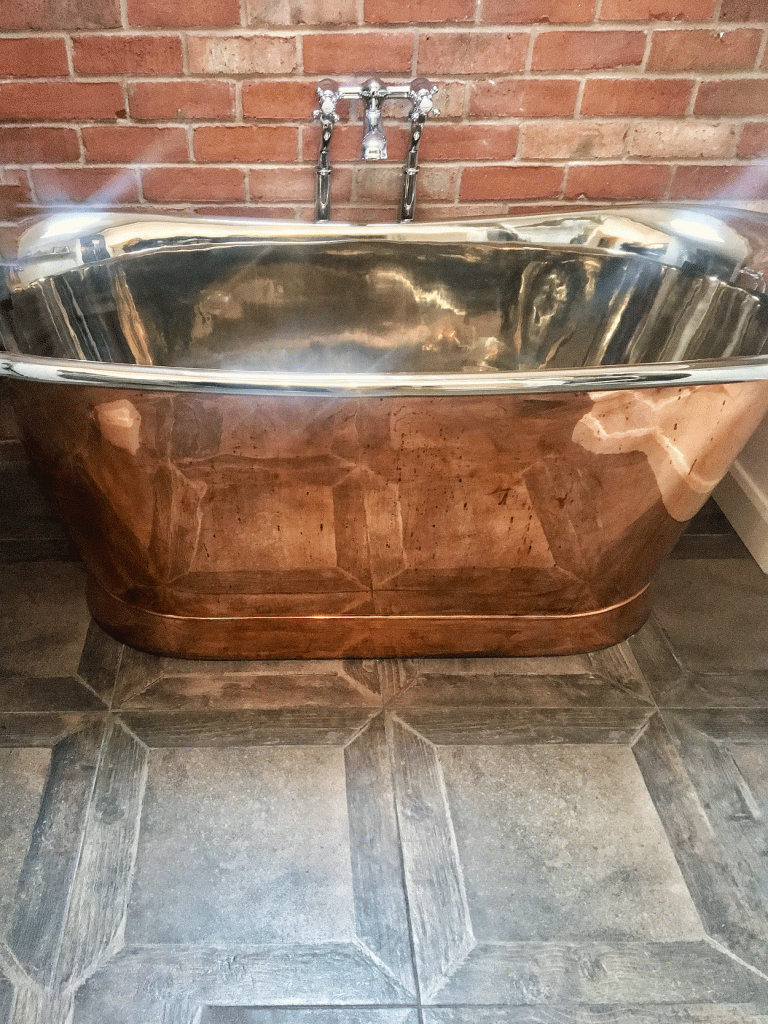 Within a matter of weeks I realised that the product I had been sold by this company and the information I was given was not matching up to the experience and quality I had been promised.
I was told by the company that all copper baths were practically maintenance free, and that the wax finish would protect the copper from marks and water damage requiring no polishing to maintain the shine. In reality the wax did nothing to protect the finish and despite drying the bathtub after every use, it quickly looked tarnished and a world away from my bathtub of dreams.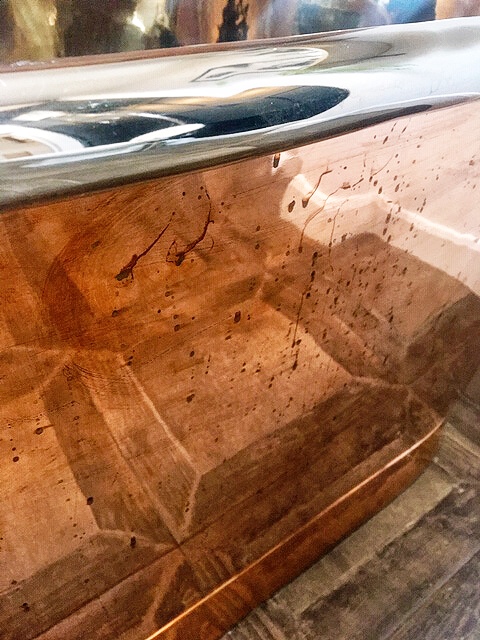 I was extremely disappointed with the end result and devastated that the bathtub marked so easily. It did not look like an aged patina as you would expect from a raw copper bath, but instead was just covered in irregular splash marks and tarnish spots that were very difficult to remove and made the bath look unclean.
I was given very little support from the company in question who provided no warrantee for what they consider natural wear and tear, and the only option was to polish the bathtub inside and out every single week in order to maintain its appearance! Which believe me is a massive and messy task.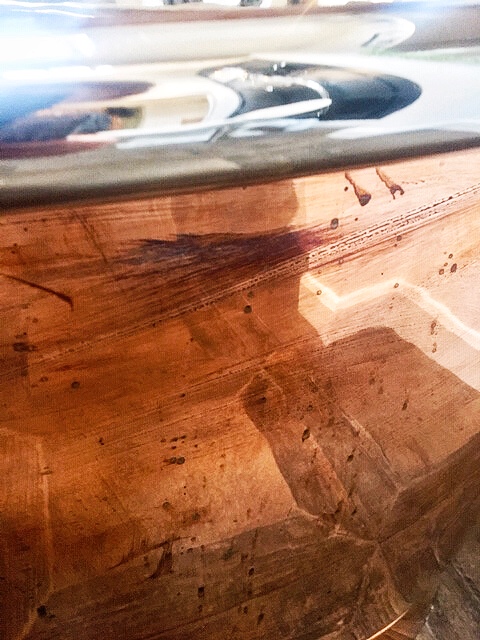 Having got to the point where my husband and I were fully regretting our decision to ever purchase this bathtub, whilst doing some research on how to care for copper baths we came across William Holland and contacted them for advice.
From talking to them I soon discovered that the information I had previously been given from the alternative company was totally misleading. In my search for a bargain copper bath, I had essentially bought a cheap imitation, that came with none of the expert finishing, aftercare and longevity that you expect from such a luxury item.
Copper naturally ages and will develop a patina wherever it comes into contact with moisture unless it is fully protected with a baked on hard wearing coating. All William Holland Copper and Brass Baths are protected with this hard wearing coating as standard and so live up to their low maintenance reputation. Cheaper alternatives are sold  as waxed, with misleading claims that this will maintain the finish which from experience I can tell you simply isn't true.
At £3000.00 the bathtub I had bought was an expensive choice albeit a cheaper alternative than a William Holland bathtub and it was undoubtedly the great price that lured me in. But this turned out to be an expensive mistake. Had I known the pitfalls and problems of sourcing a cheap copper bath, in hindsight I would have ensured I sourced from the specialist retailer William Holland and would happily have paid a higher price point to get the low maintenance, high quality, luxury bathtub I had been hoping for.
Luckily for me, having explained my story, William Holland stepped in to help. After explaining my situation they had sympathy for my plight and replaced my existing bathtub with a William Holland Copper Bath, (seen below) and what a difference it has made!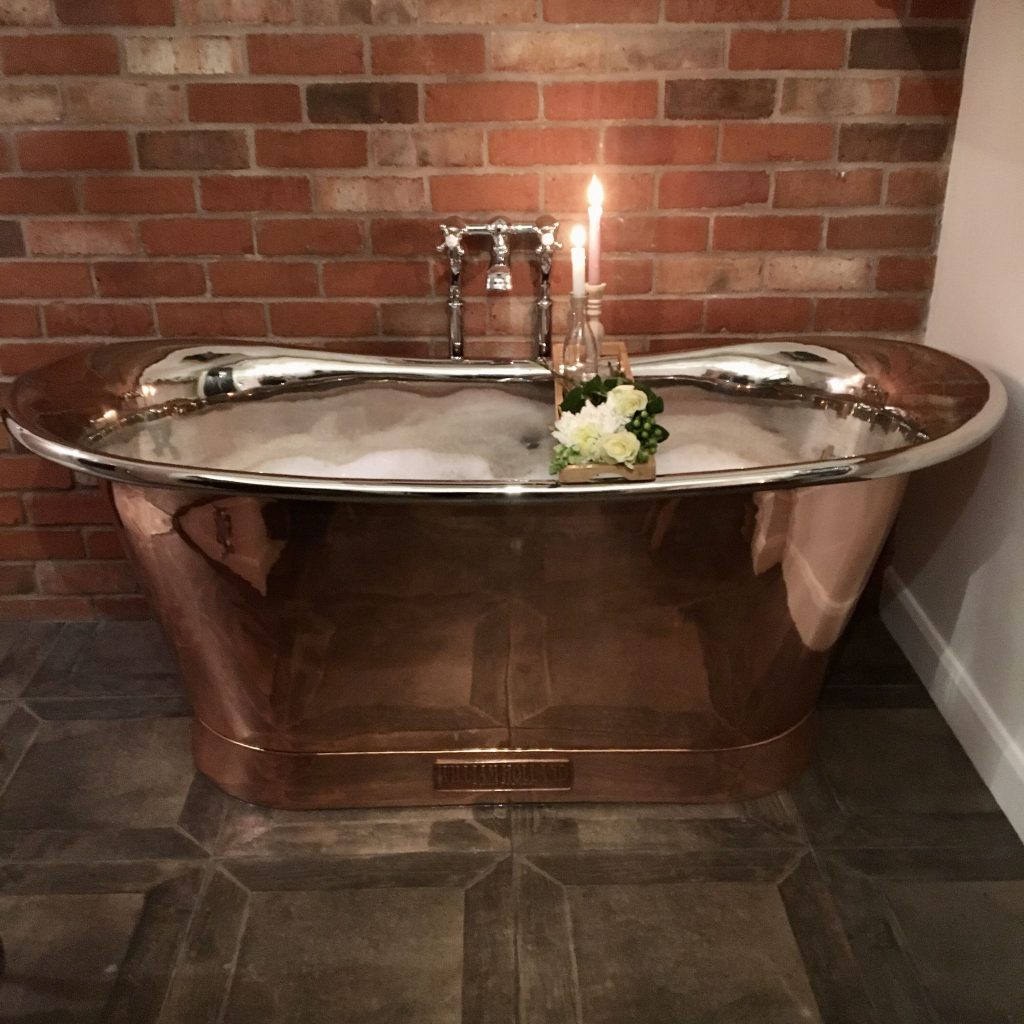 (This image was taken six months after installation. The protective coating ensures no tarnish develops and no polishing is required.)
I no longer have to spend hours polishing my bathtub, or obsessing over splashing the outside. I can just relax and enjoy this beautiful bath carefree. I finally have the low maintenance, stunning copper bath I was hoping for all along which not only looks beautiful but is also made to last.
So… my advice? Ensure that you seek advice from a specialist retailer before ordering. Copper Baths are a highly specialised item which when made and finished correctly will provide years of luxury with little to no maintenance, but if not finished correctly can be a very disappointing, costly and time consuming mistake. Replicas and brands selling imitation William Holland baths, may look beautiful to begin with but are simply incomparable to the real thing. It may feel like you are getting a luxurious bargain but this is not the case. If you would not pay £2000 for a fake Chanel handbag when the real bag is £3000 don't fall into the trap of purchasing a £3000 low quality copper bath. Pay the extra and get the service, guarantee and quality that you should expect from such a luxurious investment piece for your bathroom.' –  Jodi Martin-Flaven of Bijoux Barn
To follow Jodi's interior styling tips and projects visit @bijoubarn
To see Jodi's Instagram story regarding the great bath swap visit @bijoubarn – Bathroomofdreams
Often in today's climate we decide on a budget then find a version of the product to fit the price, but surely if quality is the priority it should be the other way around? Surely if the quality product you desire is simply out of budget it would be far better to source a completely different but high quality product that fits the budget restrictions than to opt for a cheap alternative?
Having said all of this, it has to be mentioned that the highest price also does not always mean the highest quality. Our advice is to always base your purchasing decisions on careful considerations. Check a company's heritage and expertise, ask for imagery of installed bathtubs (preferably between 1-5 years) so you can see how they age, ask for detailed information regarding finish warrantee and aftercare service, but most importantly…make sure all of these quality factors take precedence over the seduction of a bargain price.