Since the 16th Century Shepherd Huts have been an icon of British rural life. Immortalised by Thomas Hardye in Far From The Madding Crowd, many an English venture has been inspired by the tale of Gabriel Oak and the most romanticised shepherd hut in literary history.
Step through time to today's Shepherd Hut revival and although their function is now varied and diverse the romance and endearing qualities of this most English icon endures. Originally created to shelter weary Shepherds from the infamous British Weather, today's huts are a luxurious evolution within the realms of traditional heritage.
Providing idyllic additional living space, glamping properties, or a taste of outdoor living within the realms of home comfort, the Shepherd Huts of today are a must have for the back to nature 'Good Life'.
Ashwood Shepherd Huts are a member of this growing movement and have specialised in the creation of bespoke, meticulously crafted Shepherd Huts since 2005. An honoured member of the National Trust's chosen suppliers, their huts can be found in the most idyllic destinations throughout the UK and Europe's most precious wild places.
With such a reputation for excellence we were therefore thrilled when they approached us to supply our handmade copper bathtubs for some very special collaborations. First launched in the summer of 2017 for the vibrant show season, the venture was a resounding success.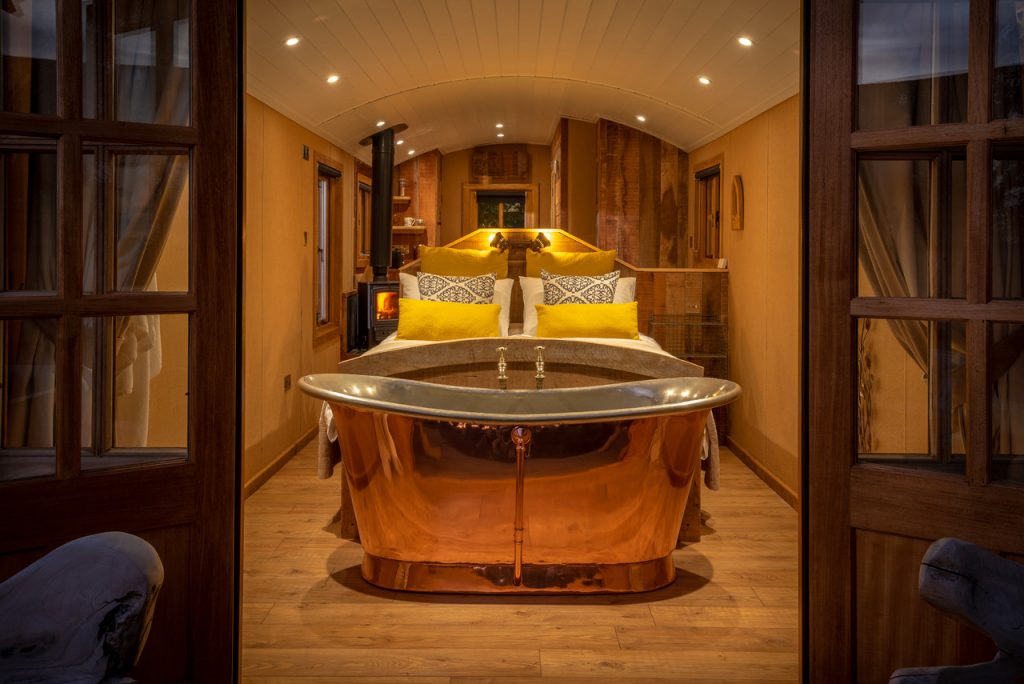 ' The Copper bath made our hut the one that everyone was talking about at the shows.  "Is this the one with the copper bath that looks out of the big doors everyone was asking?"  "We've been told to come and see it".  – Emma Mandeville – Ashwood Shepherd Huts
With large double doors opening onto the countryside beyond, guests can bathe in the artisan Copper Bateau whilst watching the sunset, or beneath an oasis of stars. Taking glamping to the next level, these huts are a romantic bolthole, back to nature escape and luxurious living space all rolled into one.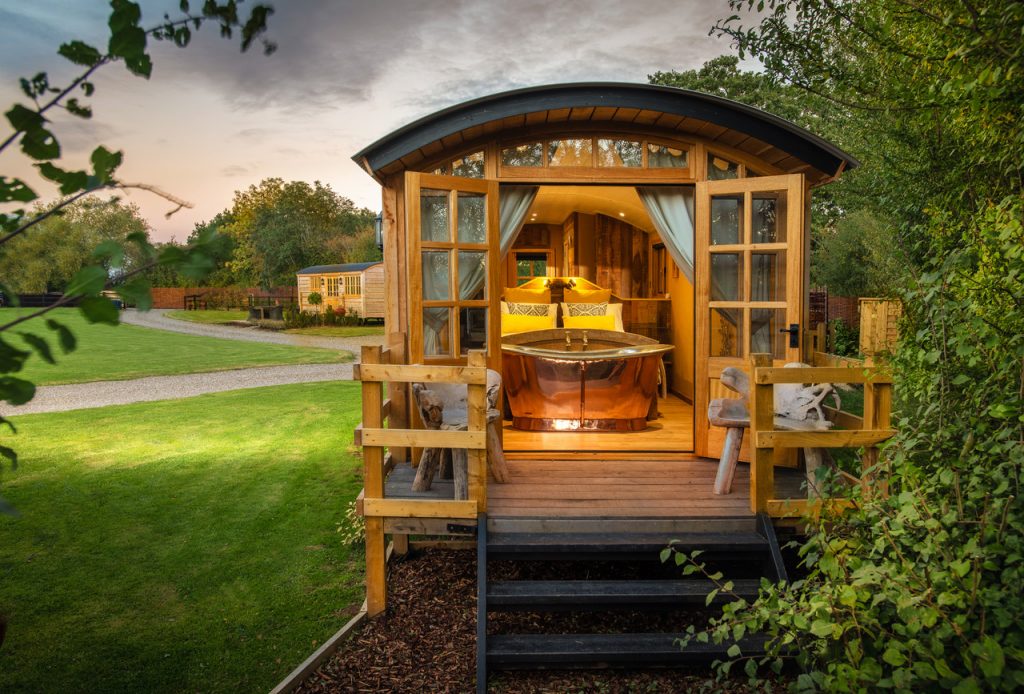 As Roger Deakin once said of Shepherd Huts  'there is such another world in there that anything is possible."
The ultimate escape, Shepherd Huts have the ability to transport us to a simpler time, where clouds drift by, and the outside world fades to reveal a place of total peace and tranquillity.
For more information please visit Ashwood Shepherd Huts