At the gateway to the idyllic Cotswolds rests a picture perfect 16th Century Inn so charming to behold it is positively poetic. Honey stoned walls, thatched roof, delicious cottage windows…It really is quintessentially English in every single way.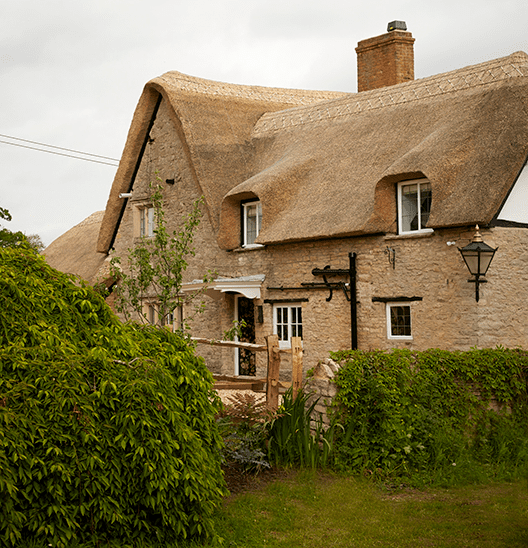 Step through the door however, and the world you enter is anything but ordinary.
With the convivial atmosphere of an eccentric family home, the Artist Residence Oxfordshire has brought an arty off-beat approach to Boutique Inns. The fourth creation in their family of unique accommodation, this new destination continues the theme of bohemian spirit with a healthy dash of playfulness and English quirk thrown in.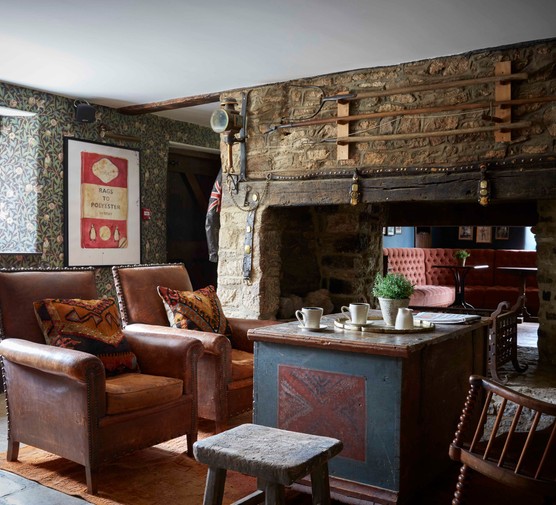 Based in a converted Farmhouse, downstairs The Mason Arms is the Inns personal take on the traditional country pub. With plenty of original character, flagstone floors, inglenook fireplaces, beams and settles… at first glance classic country style forms the very foundation of this cosy interior. Yet, look a little closer and you will see an infusion of contemporary art show mixed with antique finds, humour, warmth and welcome.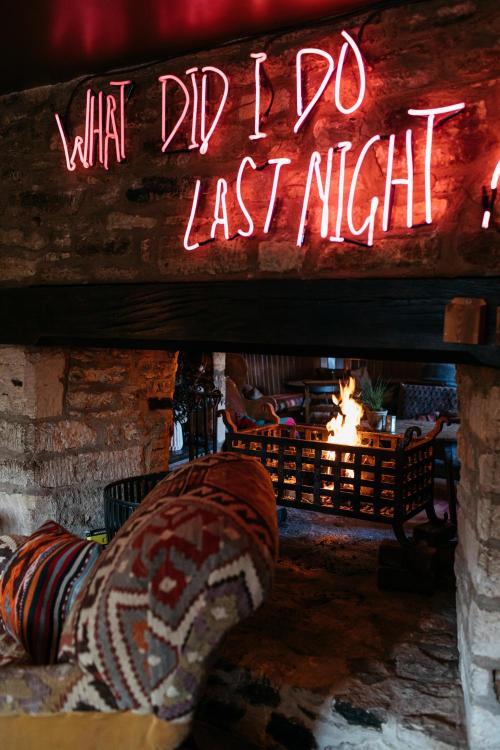 With neon works by Andy Doig a 'What did I do last night?' sign adorns the wall with good natured abandon setting the tone for hearty fun and frivolity, while comfy nooks, vintage armchairs, artworks and oddities combine cosyness with curiosity for an intriguing eclectic experience.
Upstairs, the comfy bedrooms are set across the first floor of the farmhouse (turned pub) a selection of converted outbuildings and a delightful Shepherd's Hut at the end of the herb garden.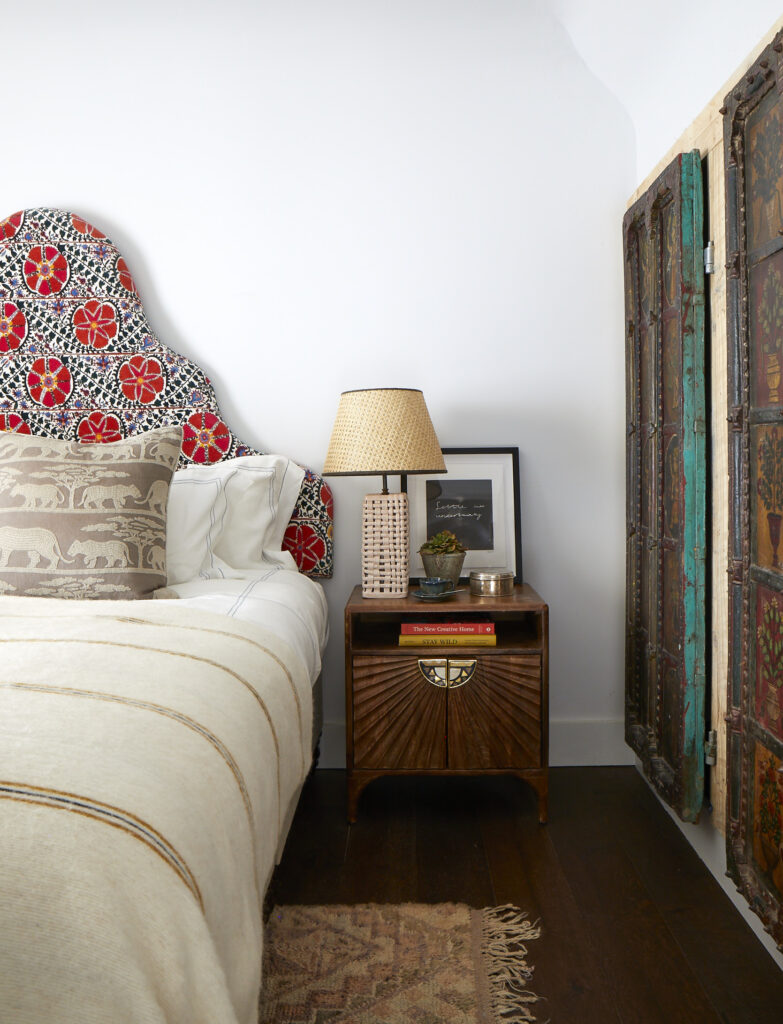 With every room individually styled and designed, guests can expect a creative mix of vintage and reclaimed furniture, limited edition and unique art works along with imaginative interior design. House of Hackney Wallpapers adorn the walls with magnificent maximalist flair, contemporary art by The Connor Brothers adds wit and unconventional style, whilst the raw finishes and honest aesthetic brings originality and integrity to the boutique Inn scene.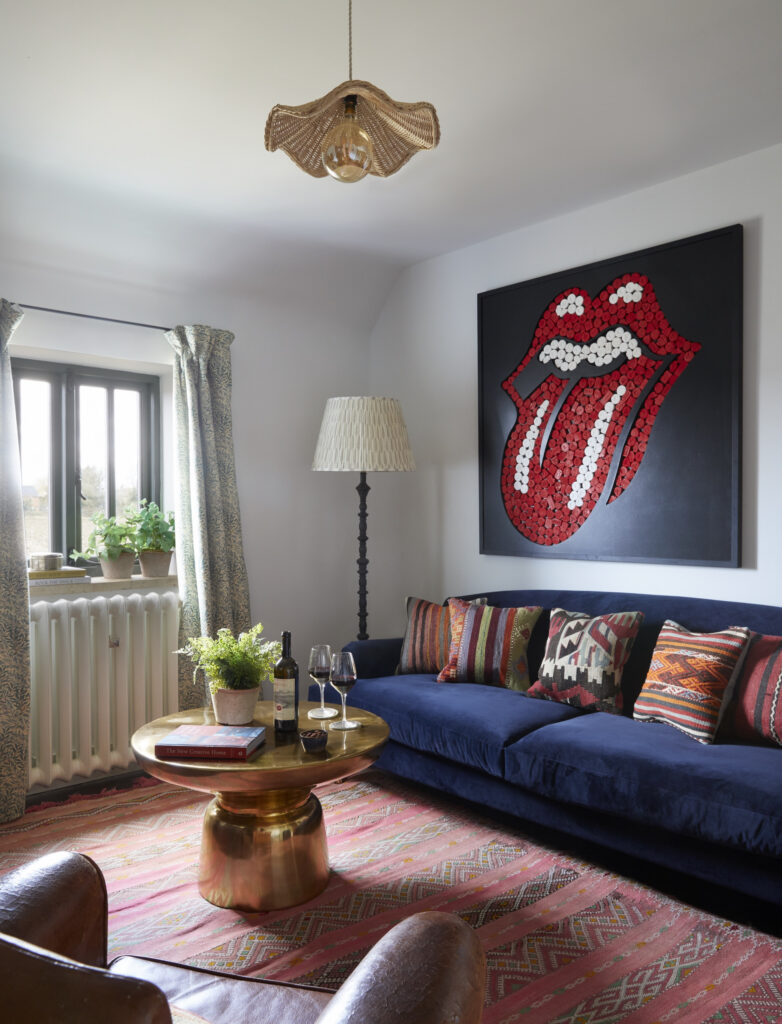 Soaking up the convivial atmosphere and adding to the sense of vintage artistry, freestanding copper baths bring romance to the eclectic suites. Perfectly made for two and handcrafted from pure copper, these luxury bathtubs are all hand finished to order in Dorset by British Master Craftsmen making each and every one beautifully unique.
From the living, organic luxury of the natural Verdigris to polished copper and artisan tin, each tub creates the ultimate finishing touch for a magical stay.
Perfect for arty urbanites looking for a taste of the English countryside, couples and families alike, the Artist Residence in Oxfordshire is practically perfect in every way.
For more information visit: The Artist Residence