In celebration of Valentine's Day we have decided to share the love in collaboration with luxury English Wine creator's Gusbourne Wine by offering the chance to win one of our much loved miniature Copper Baths, a sumptuous bottle of Gusbourne Vintage Wine and Vineyard Tour for two!
As many of you know, we rarely part with our handcrafted miniatures which are all handmade with the same master craftsmanship as our iconic full size copper baths. Petite yet perfectly formed our dainty miniatures make the most decadent wine coolers, so who better to team up with than English Vintage Wine creators, Gusbourne.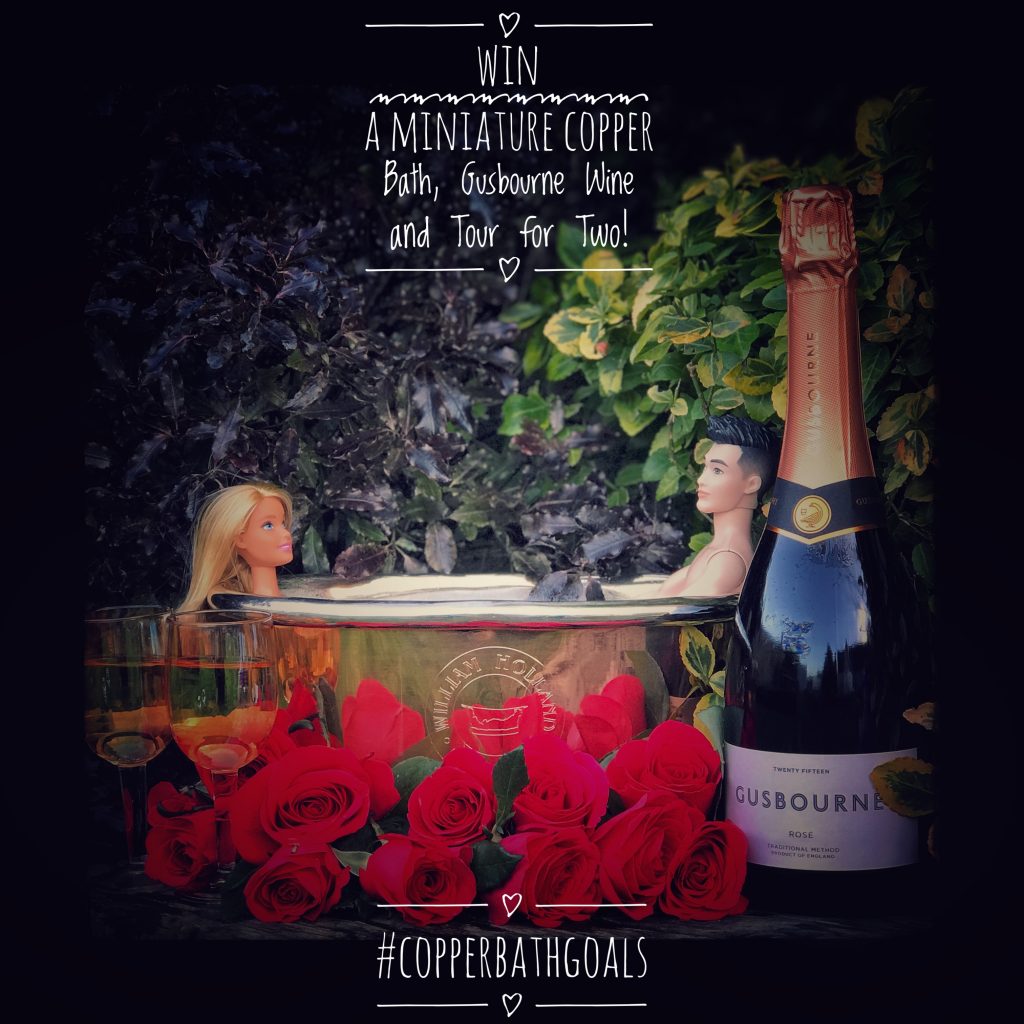 Owned by The de Goosebourne family, the original Gusbourne Estate dates back to 1410 and their ancient family crest comprised of three iconic geese now brands every bottle of Gusbourne wine in honour of their heritage. Symbolising trust, the 'goosemark' represents Gusbourne's tireless pursuit of uncompromising quality and excellence.
Based in Appledore in Kent, Gusbourne have combined traditional skill with modern innovation to create a collection that rivals the finest produce from around the world.
Spanning the bridge between heritage and modernity is a concept that speaks to our own ethos. Combining traditional artisan skills with the wonder of technological advancement we are entering an exciting time of creativity, where the narrative and unique qualities of age-old craftsmanship blend with the luxury afforded by innovation to craft produce of exquisite artistry.
Nature is our most valuable asset, and our focus on natural materials, sustainability and quality over mass production is also a concept shared by Gusbourne. Their respect for the vineyards, the fruit and the natural elements results in an approach that requires minimal intervention, revering time and patience as two of the most important ingredients in the art of winemaking.
For one lucky winner, not only will you get to taste the exquisite complexity of one of Gusbournes highly respected vintages, but their Vineyard Tour will introduce you to the wonderful world that makes their little corner of England so perfect for the creation of English Sparkling Wine.
To enter you simply need to be following us, on either Facebook or Instagram (or both should you wish!), like the post and tag a friend. The competition is open on both Instagram and Facebook and entry closes on Friday 14th February at midnight.
You can enter via the links below:
Instagram: Valentines Day Competition Entry
Facebook: Valentines Fay Competition Entry
You can apply as many times as you like. Full Terms and Conditions can be found on our Facebook Page.
Best of Luck!
For more information regarding the exquisite Gusbourne wines, please visit their website  www.gusbourne.com