As Valentine's Day approaches and thoughts turn to love, we explore the most romantic hotels in England in search of the perfect Valentines moment…
Reconnect at The Scarlet Hotel with a candlelit Copper  Bath Spa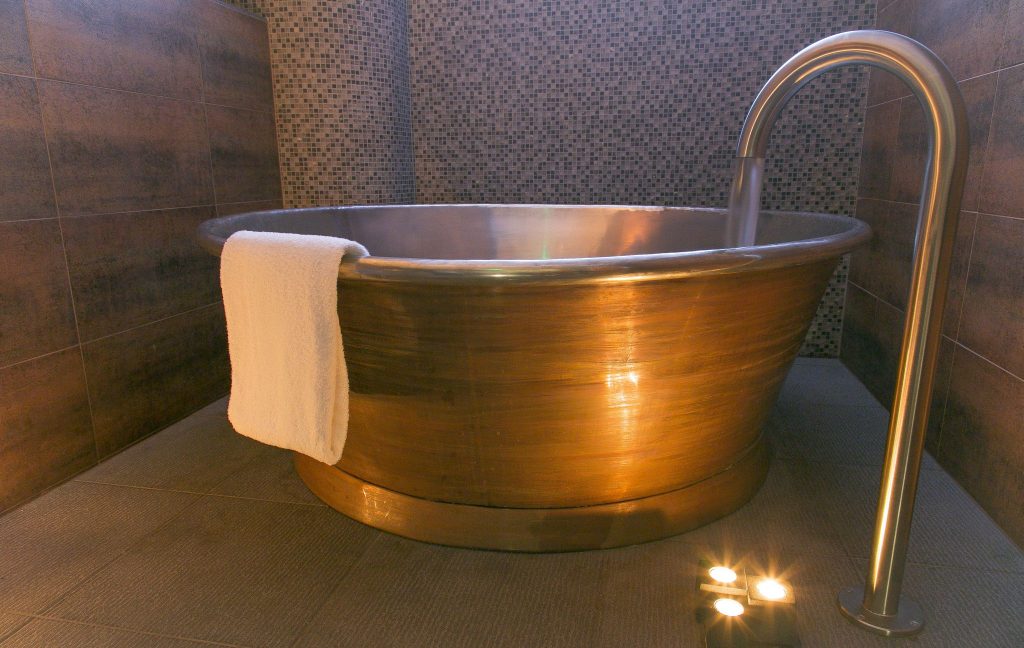 On the wild North Cornish coast The Scarlet Hotel is an adults only luxury Eco-Spa. Dramatic cliffs, wild oceans and expansive skies fill the floor to ceiling views connecting guests to the great outdoors at every turn. With meadow gardens and cliff top hot tubs, freshwater infinity pools and fireside lounges there is no end to the magical spaces in which to relax and unwind.
The Scarlet philosophy is centred around balance and connection, an ethos that is felt through every detail from the light, airy spaces framing the magnificent coastline, to the lantern lit tented spa and cosy intimate spaces.
However it is the Copper Bath Spa that for us provides the ultimate Valentines moment. Sink into the magnificent round copper bath, immersed in flickering candlelight and simply let the outside world float away.
Visually and sensuously enchanting 'a candlelit copper tub bathing ritual is a powerful way to reconnect – with nature, your body, your sense of self, with each other.' – Scarlet Hotel
Contemplative and spiritual The Scarlet conjures a unique atmosphere of pure tranquility and peace, perfect for nurturing hearts.
For more information visit:
Le Petit Chateau – Romance, Copper Baths and Parisian Splendour!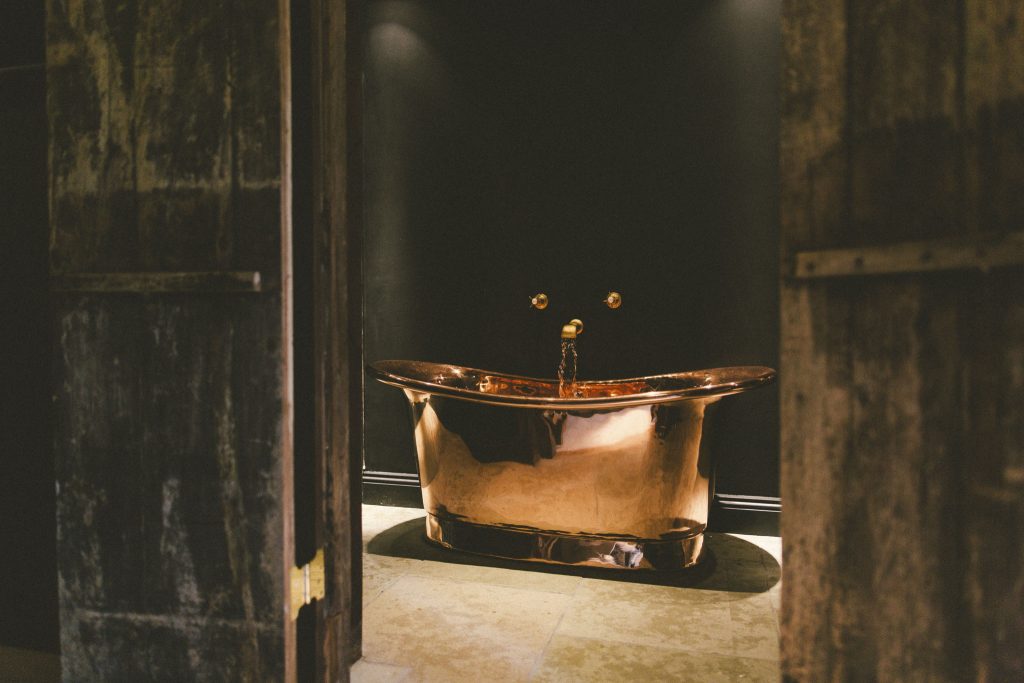 Somewhere between the Parisian decadence of the 1920's and the Laid back chic of French Provencal emerged the perfect blend of fantasy, fun and sophistication in a tiny Northumberland Hamlet in 21st Century England. Confused?… don't be! Le Petit Chateau is an extraordinarily magical venture crafting all the elements of French sophistication into a wonderland of ethereal laid back savoir-faire.
Moulin Rouge with a delicate hint of Disney, French Chateau Grandeur with a relaxed vintage vibe. This is a venue where the glamour is accessible; a living fairytale that embraces you in a world of love, laughter and fantasy.
With sumptuous fantastical suites and eclectic décor, each room is a private wonderland. Featuring handcrafted copper Bateau baths perfectly designed for two, the entire venue is a charming homage to romance.
Created originally as an exclusive, versatile wedding venue offering settings from the traditional to theatrical, Le Petit Chateau also opens its doors as a unique hotel for those desiring a magical escape from the norm.
For more information visit:
Bathe beneath the stars at Clowance Park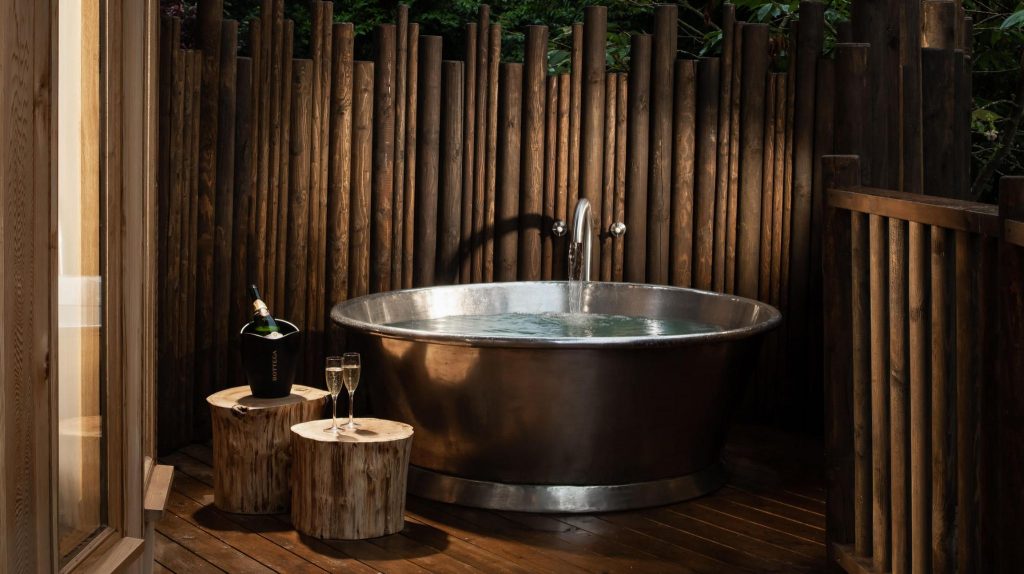 High above the Cornish forest floor, nestled amongst the wizened branches rests a truly magical hideaway. With panoramic views over the woodland grounds, secluded terraces, curvaceous interiors and even an outdoor copper bath, Clowance Treehouse is a breathtakingly enchanting escape.
With an aesthetic appeal somewhere between a Fairy-tale and the wonders of Middle-Earth, the interior design captures the magical qualities of the natural surroundings. The organic lines combined with the use of natural materials create an effortless sense of calm, while delicate windows form living picture frames to the woodland world beyond.
Outside, a sweeping timber terrace provides a platform to feel at one with nature. Perfect for alfresco dining and relaxing there is even a sumptuous Rotundus Copper Bathtub to while away the hours.
'The bath was definitely the jewel in the crown: watching the sun go down with a glass of wine and a in an outdoor tub surrounded by treetops was a real "this is the life" moment' – evening standard
Surrounded by natural fencing the outdoor Copper Bath lends a spa like indulgence to the experience, where guests can immerse themselves in the sights and sounds of the forest and gaze at the stars on those long balmy nights. What could be more romantic than that!
For more information visit:
Clowance Treehouse on The Lake
For more romantic hotel inspiration be sure to check out our Commercial Gallery pages. Your dream weekend is waiting!