With overseas travel still on hold yet UK restrictions coming to a very welcome end, we are planning for a very British Summer with our Top 10 UK Staycations!
As the sun begins to shine it seems like hope is finally in our favour with restrictions gently lifting and the promise of UK based holidays on the horizon. Although often vastly overlooked in search of far flung destinations there is a wealth of beauty, adventure and luxurious escapes all to be found within our beloved British shores.
Take a look at our Top 10 UK Staycations and discover a British Holiday to remember…
1.) Kilmartin Castle – Live like a Queen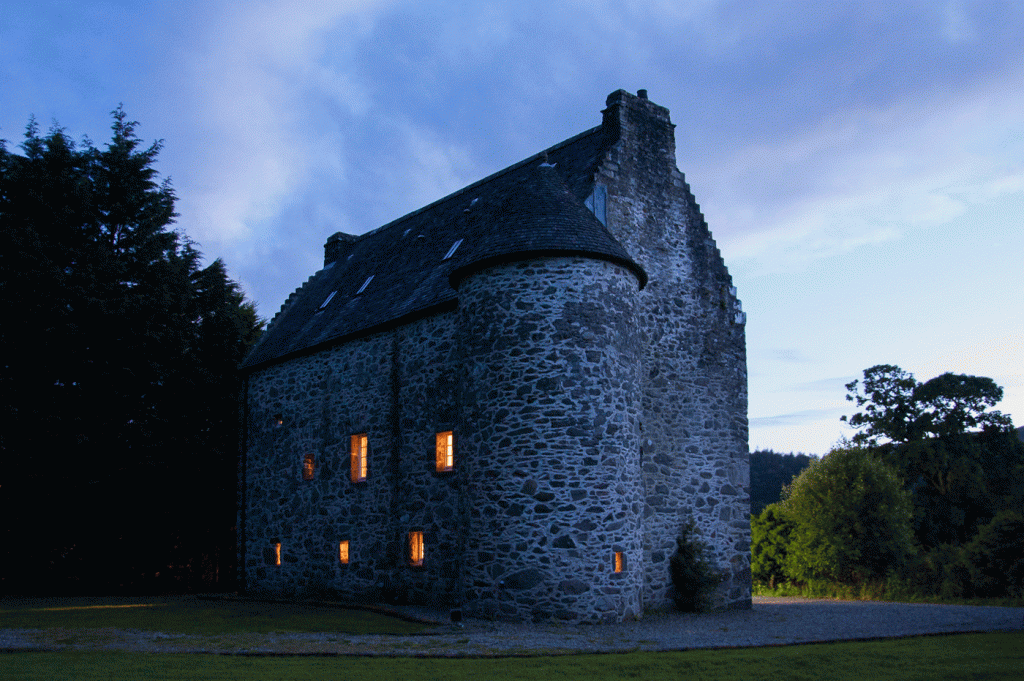 What could be more luxurious than staying in your own private castle! Located in The wild Scottish Highlands, this lovingly restored and newly renovated destination is a magnificent blend of art, architecture and history, where past and present combine.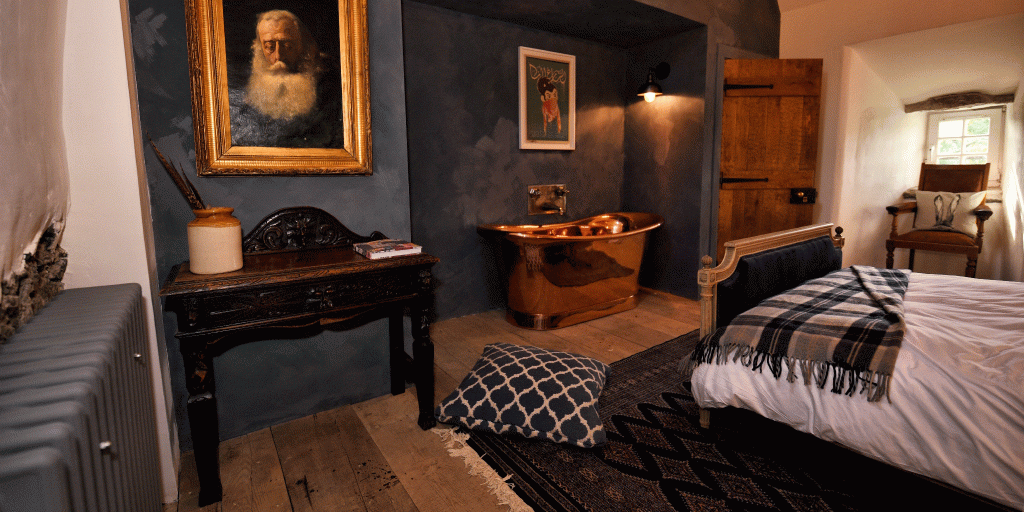 Featuring cosy wood burning stoves and decadent William Holland copper baths, after a day exploring the magical surroundings of ancient glens, Gaelic forts and mystical standing stones guests can be sure of a warm and luxurious welcome when they return to the pre-Raphaelite romance of these ancient castle walls.
For more information visit Kilmartin Castle
2.) Holly Water Cabin – Outdoor Life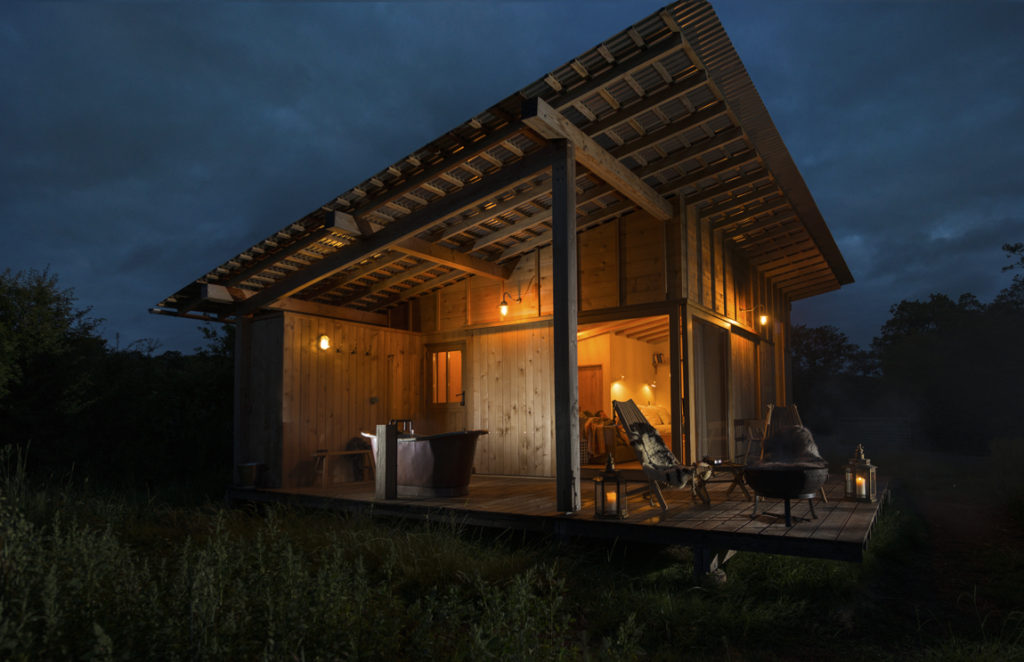 Taking the trend for outdoor living to the max, luxury cabins are a great way to experience the peace and tranquillity of nature whilst surrounded by life's little luxuries. Combining the calm inspiration of earth inspired interiors Holly Water Cabin perfects the art of bringing the outside in.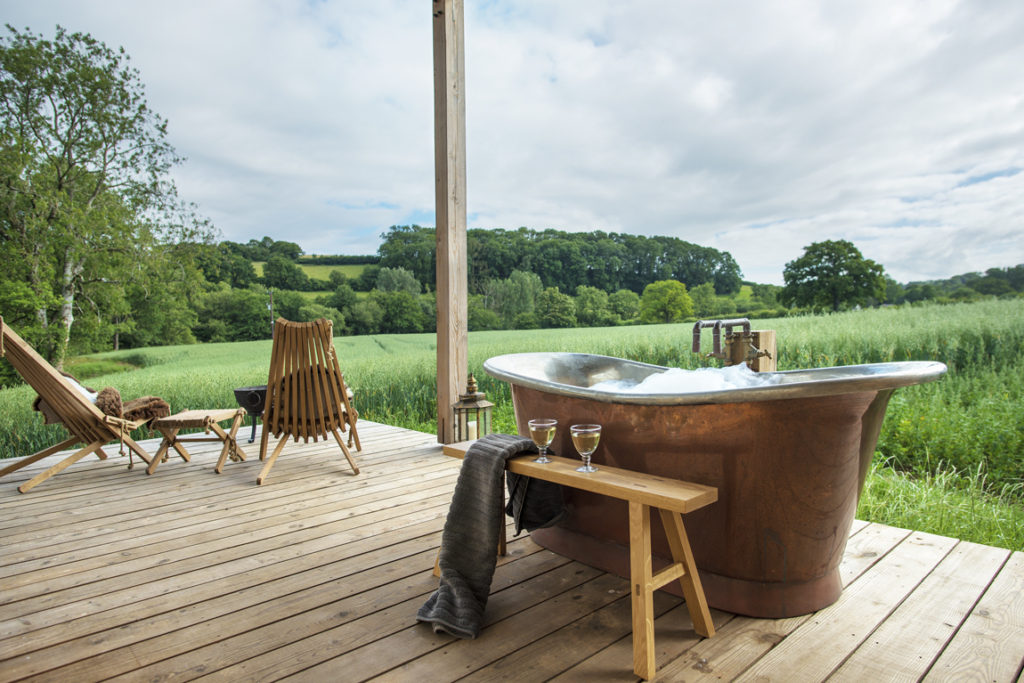 Using, natural materials and the latest eco-build design, the seamless transition between indoor and outdoor living is delightfully transient. Sliding back the floor to ceiling windows wildness blends with indoor luxury in one perfectly versatile space. Guests can recline on the sofa immersed  in the pristine views, enjoy a secluded coffee or cocktail from the treehouse deck, or sink into the outdoor copper bath, for sunset bathing and dark night stargazing.
For more information visit Holly Water Cabin
3.) The Rapids Cottage – Cottage Core & Hot Tubs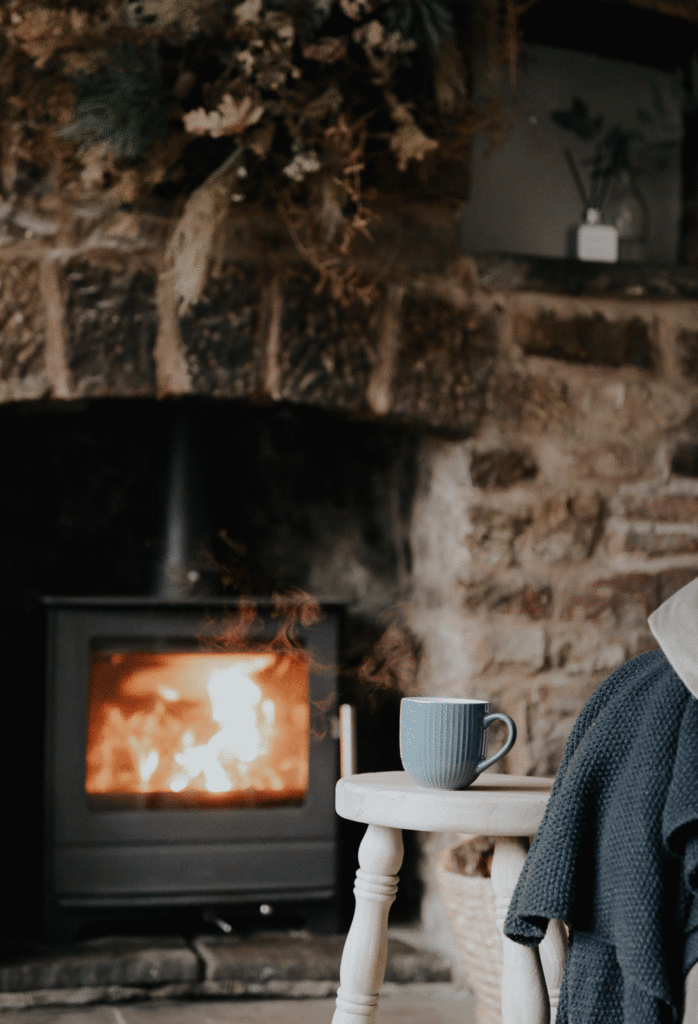 Deep within the pristine forest of the Yat Valley, immersed in ancient landscape rests a place made for rural romantics.
Surrounded by pristine woodland 'The Rapids Cottage' is a tranquil escape where birdsong and sunrise raise you from slumber, till the wandering river lulls you to sleep.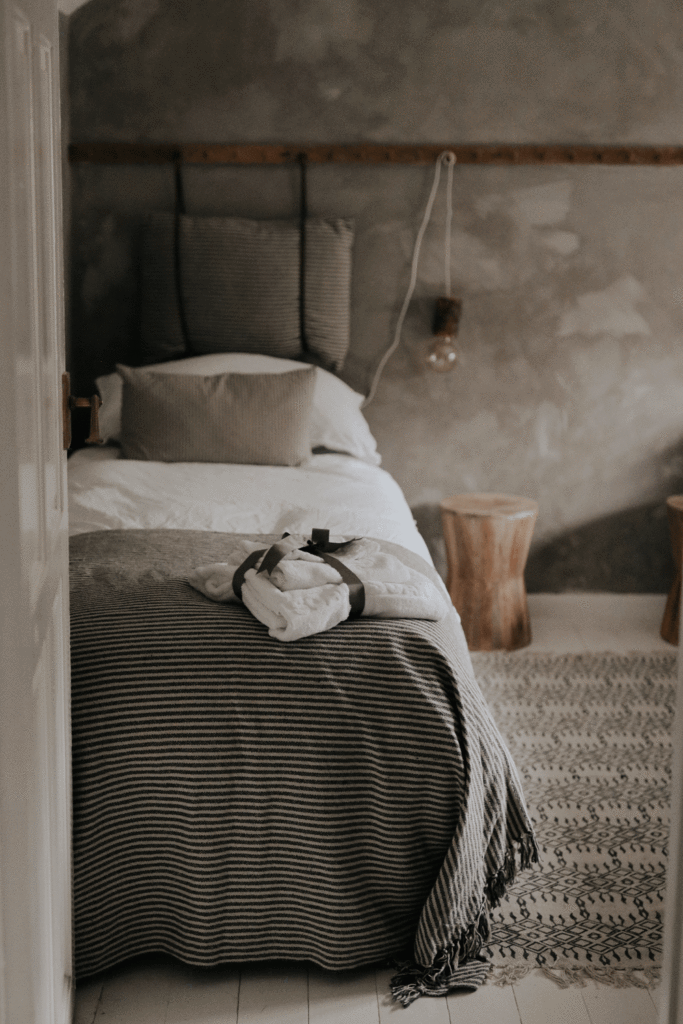 Built in 1850 'The Rapids Cottage' is a true home from home Hygge escape full of the simple luxuries of life, designed to help guests unwind and reconnect. Featuring superior Scandi style interiors, the enchanting décor in soft delicate hues reflects the tranquillity of the world outside.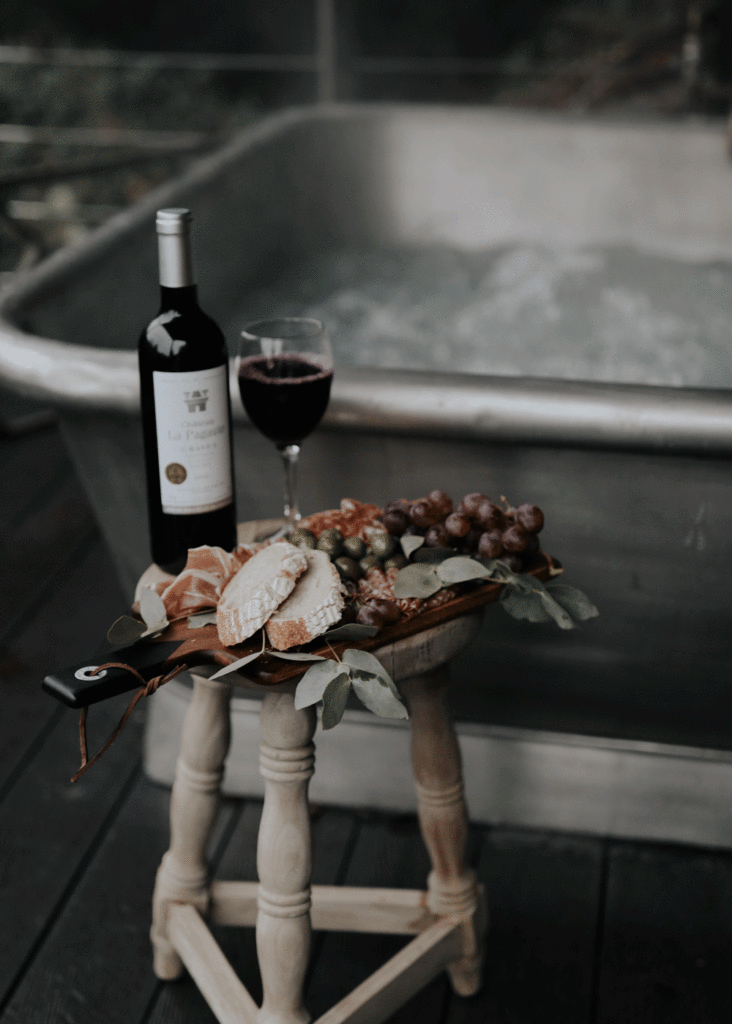 Outdoors, surrounded by the enchanting lights of the magical deck, a handcrafted copper hot tub provides a luxurious back to the wild experience. Guests can immerse themselves in the warm spa bubbles for a sundowner surrounded by the sounds of the rapids below or, as the morning mists rise from the river, enjoy their coffee immersed in the outdoor bath and the sounds of the forest whilst a magical world unfurls.
For more information visit: The Rapids Cottage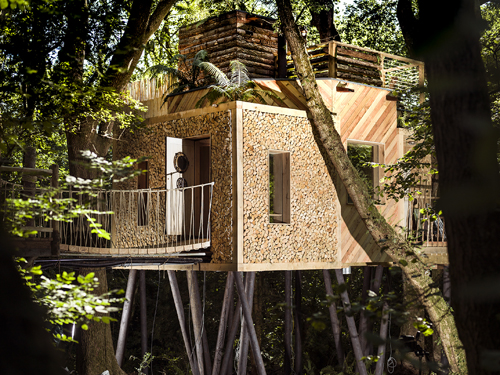 RIBA nominated, The Woodsman's Treehouse by Guy Mallinson represents 'childhood fantasy come to life' in this Channel 4 Grand Designs House Of The Year.
Meandering down a hidden boardwalk deep in the Dorset Woods you'd be forgiven for thinking you'd fallen straight through the pages of a Fairy tale.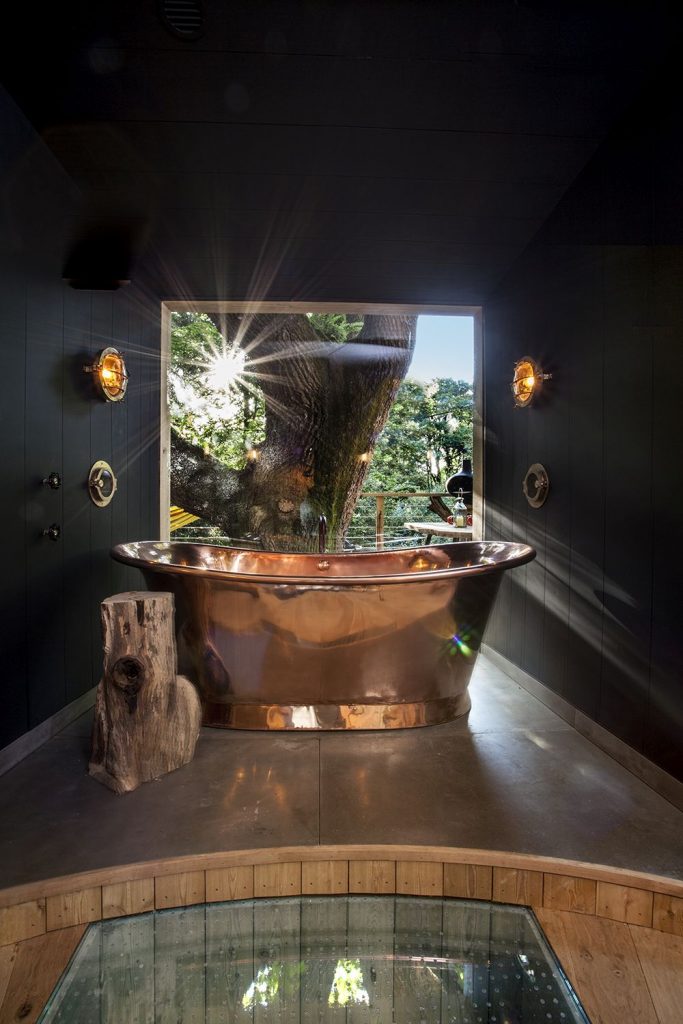 Built around a magnificent oak tree, the entire structure is designed with respect to the woodland using natural materials and local craftsmanship. Featuring a large cylindrical living space complete with copper bath gazing out onto the forest beyond, and a roof deck where guests can bathe in a round copper spa bath beneath a canopy of leaves and stars, this magical destination is a jewel in the Dorset crown.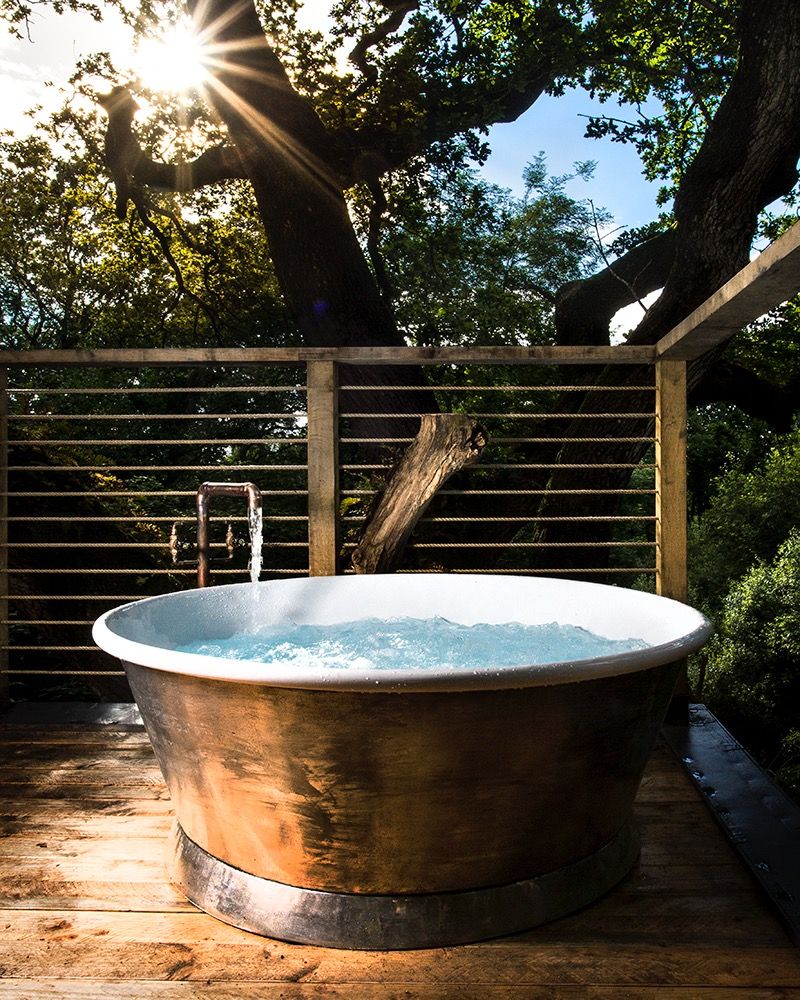 For more information visit: The Woodsmans Treehouse
5.) Barford Beach House – Coastal Escape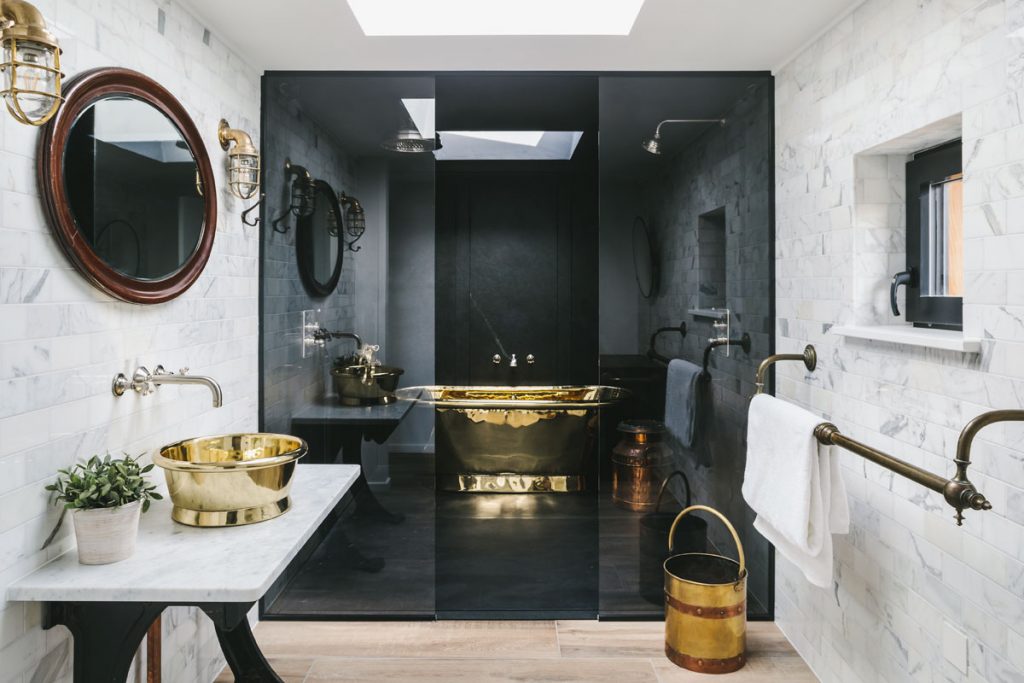 With industrial luxe interiors, magical features and quirky design, Barford is a luxurious coastal homestay with an uber chic edge. Rustic enough for a homely vibe yet cool enough for the most dedicated urbanites; Barford is a beach house with a difference.
Full of magical surprises, decadent industrial slipper baths and magnificent brass aequs baths gaze onto the private beach outside with each of the six suites opening onto a spacious sea view terrace. Individually designed and unique, they offer a sumptuous retreat from the communal areas of the house.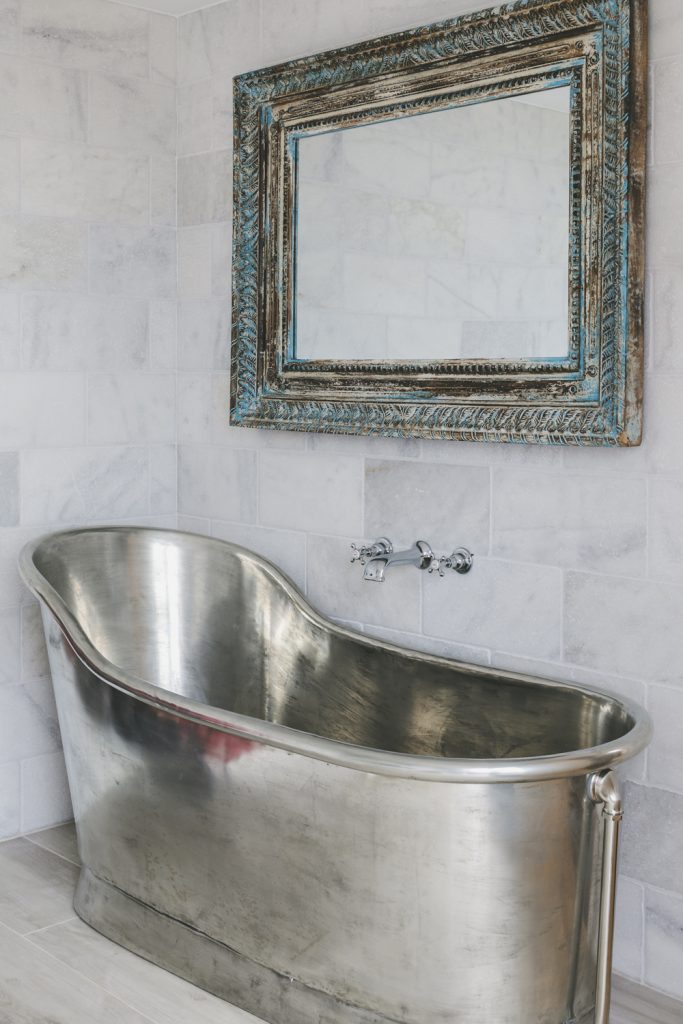 Barford Beach House somehow manages to combine the luxury of a Boutique Hotel, with the character and laid back welcome of a family home. Designed with quirky details and magical touches there is plenty to delight the young and young at heart alike. Magical, surprising and full of fun, there is something for everyone in this extraordinarily special place.
For more information visit: Barford Beach House
6.) Dimpsey Glamping – Shepherd Huts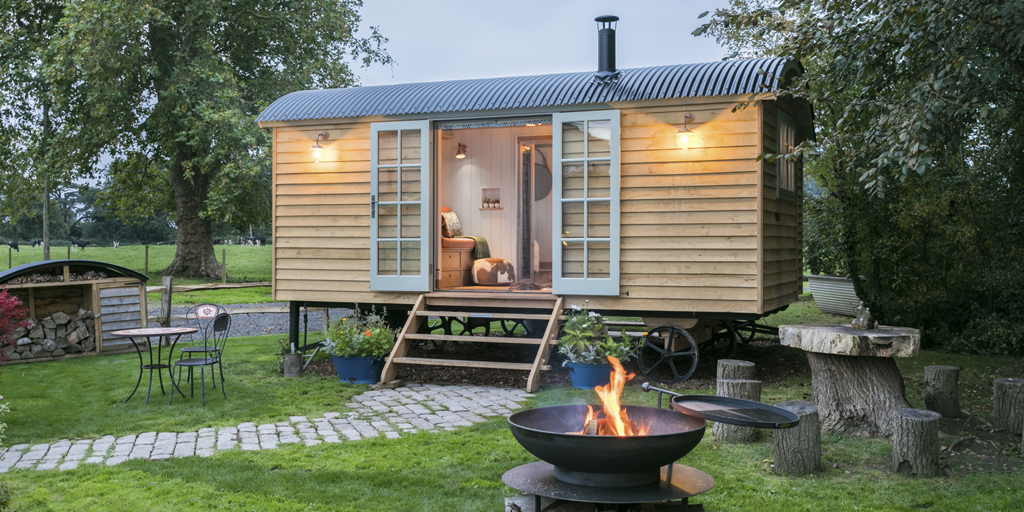 Embracing the rich rural heritage of the region, the name 'Dimpsey' comes from the West Country word for the dreamy half-light that appears at twilight and dusk. Romantic, idyllic and ever so slightly ethereal, Dimpsey is a chance to escape to simpler times, to immerse yourself in alfresco living and simply just 'be.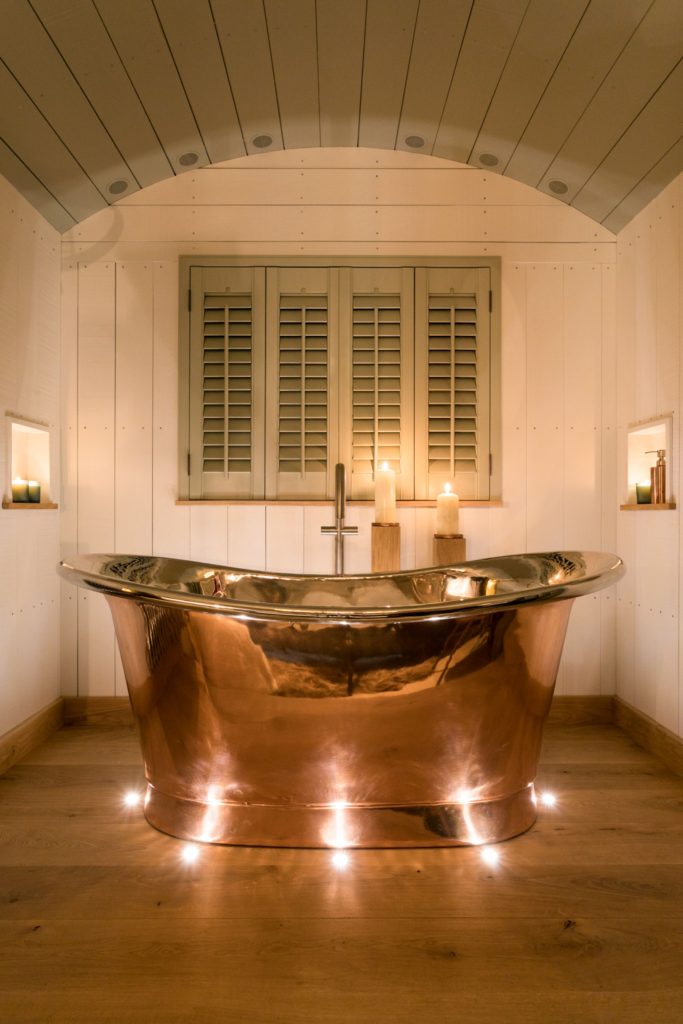 Located on the Blackdown Hills, an Area of Outstanding Natural Beauty on the Somerset and Devon border, Dimpsey Glamping is set on a small farm of such ancient lineage that it features in the Domesday Book. Surrounded by breath taking countryside interspersed with quintessential picture postcard farms and villages, Dimpsey is a joyful return to the tranquillity of traditional country life.
Bringing boutique living to the British wilds, their luxury shepherd huts, complete with William Holland Copper Baths take country-luxe glamping to new heights!
For more information visit: Dimpsey Glamping
7.) Atelier Rose – Unique Homestays – Country Manor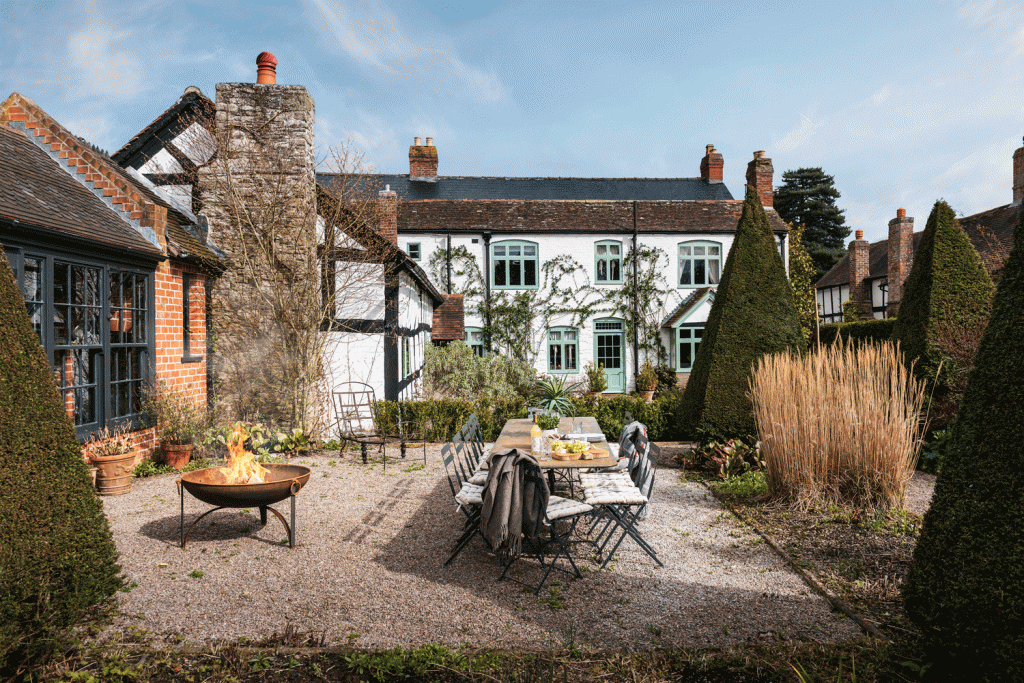 Secluded in a quaint riverside village tucked away behind magical topiary pyramids this luxurious home is immersed in idyllic charm. Filled with secret gardens, romantic charisma and enchanting details, Atelier is a place of exceptional magic and warmth.
With sweeping staircases, four poster beds, secret gardens and private fishing rights on the banks of the river, this idyllic rural escape is a wonderland of decadent escapism.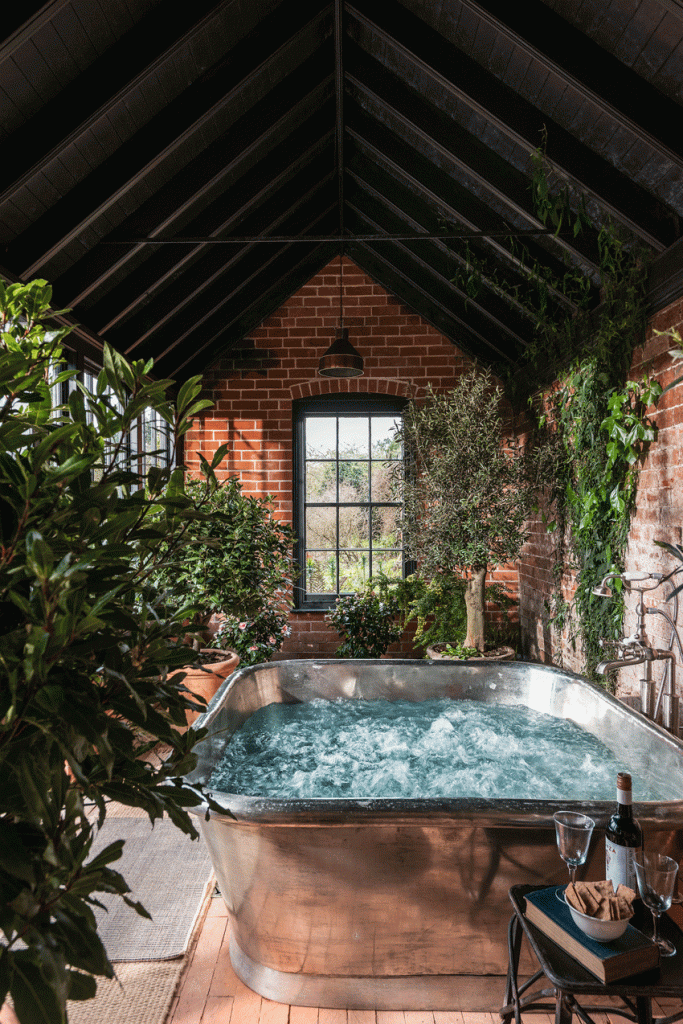 Featuring a cinema room for rainy days and open fires for cosy evenings there is even a private orangery housing a luxurious copper spa bath where guests are invited to throw wide the French doors, sink into the bubbling bath and gaze out onto the fire pit as the sun sets over the grounds.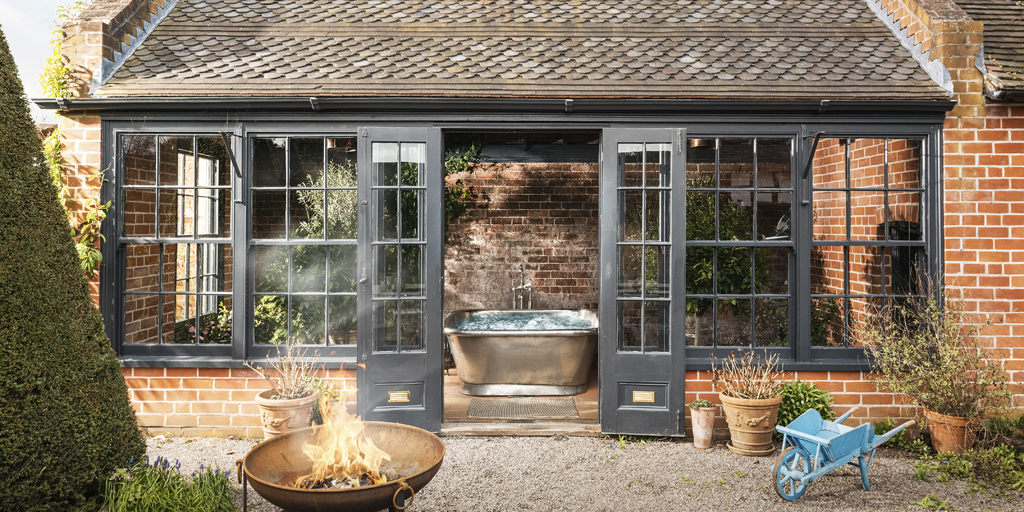 With room for up to 12 guests, Atelier is the perfect location to lay back, unwind and reconnect. It is a place where memories are made.
For more information visit: Atelier Rose – Unique Home Stays
8.) Artist Residence – Penzance – Home is where the art is.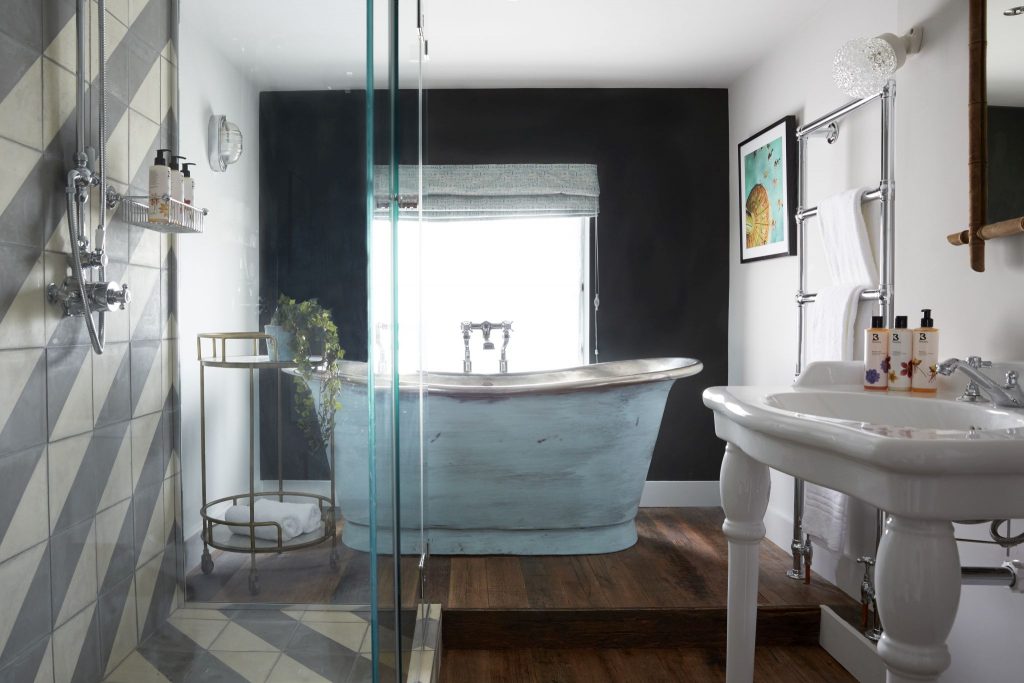 With an uber cool laid back vibe the Artist Residence is a luxury hotel that lives and breathes British Art from the minute you enter through the glorious Georgian façade. An art gallery and boutique hotel all rolled into one situated in the heart of old Penzance, this unique destination overflows with creativity.
From Graphic Prints, to 360 degree wall murals, each and every room showcases a different British artist ranging from the delicate seascapes of the Muju Room, to the vibrant Chapel Street installation, enveloping the suite in an inviting scene with flashes of summer sea turquoise and sunset orange by artist Jo Peel.
Even the bathrooms are designed with artistic flair featuring the vibrant William Holland Verdigris Copper bath. Blending the traditional artisan theme with a unique twist the natural Verdigris continues to evolve in tune with the environment, with deep aqua tones singing of the Cornish sea outside.
For more information visit: Artist Residence – Penzance
9.) The Scarlet Hotel – Spa Life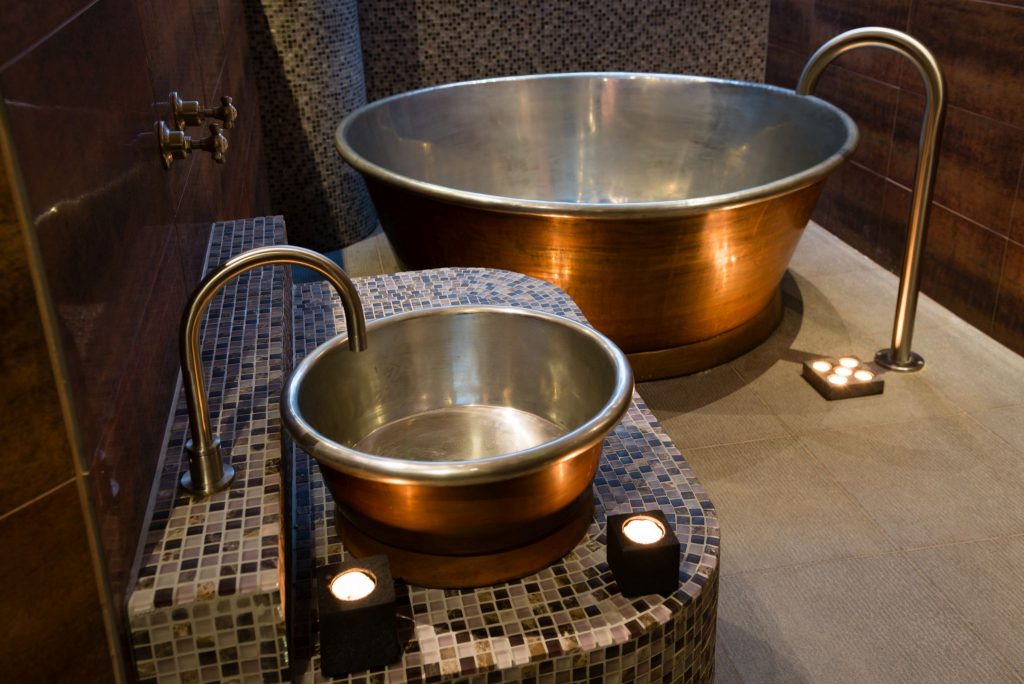 Situated on the stunning Mawgan Porth Bay on the Cornish coast The Scarlet Hotel is a contemporary adult only hotel with rejuvenation, contemplation and relaxation at its heart. Nestled into the cliff with uninterrupted views stretching out over the Atlantic Ocean, it is the perfect place to experience back to nature luxury.
Taking great pride in its environmental ethos The Scarlet believes that 'great design can go hand-in-hand with sustainability' and features reed pools, outdoor wood fired hot tubs, and a magnificent indoor copper bath as the centrepiece for their Spa Experience.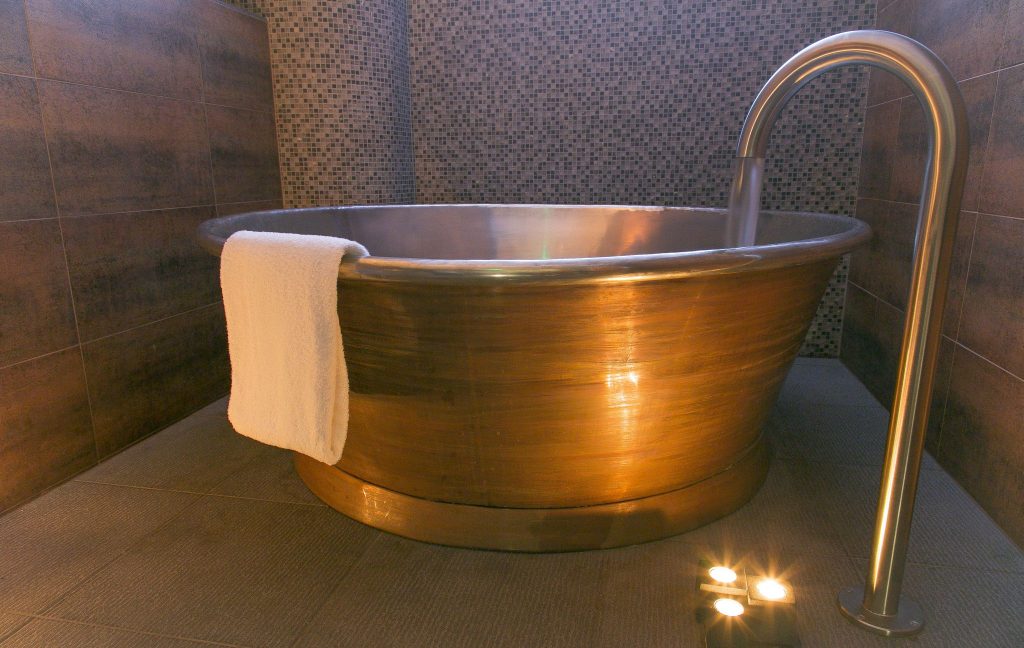 Visually and sensuously enchanting, 'a candlelit copper tub bathing ritual is a powerful way to reconnect – with nature, your body, your sense of self, with each other.' – Scarlet Hotel
For a healing escape designed to nourish your wellbeing, The Scarlet Hotel is a destination not to be missed.
For more information visit: The Scarlet Hotel
10.) North Star Club – Woodland Wonderland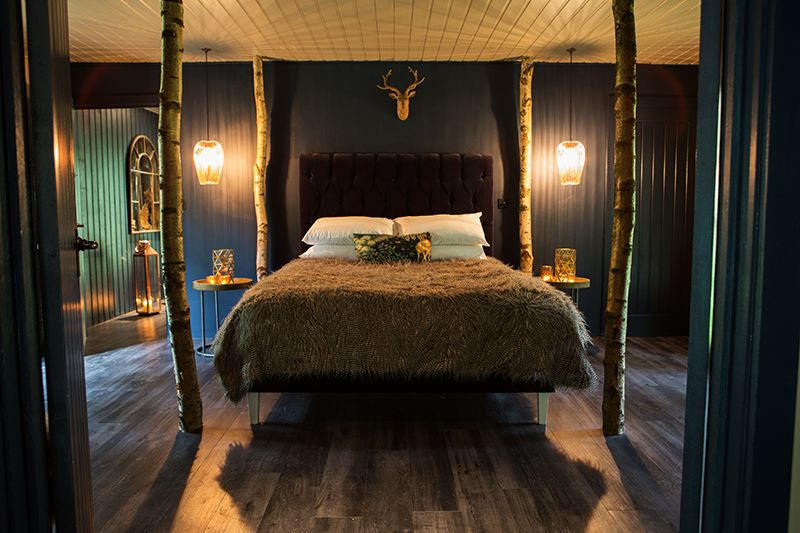 Luxury woodland retreat 'The North Star Club' is an ethereal wonderland, taking 'glamping' into an utterly new realm.
The second venture by creative duo Christian and Carolyn Van Outersterp, whose Jollydays Glamping site changed the face of luxury British camping forever, masterfully combines the freedom of the wilderness with all the indulgence of a boutique hotel.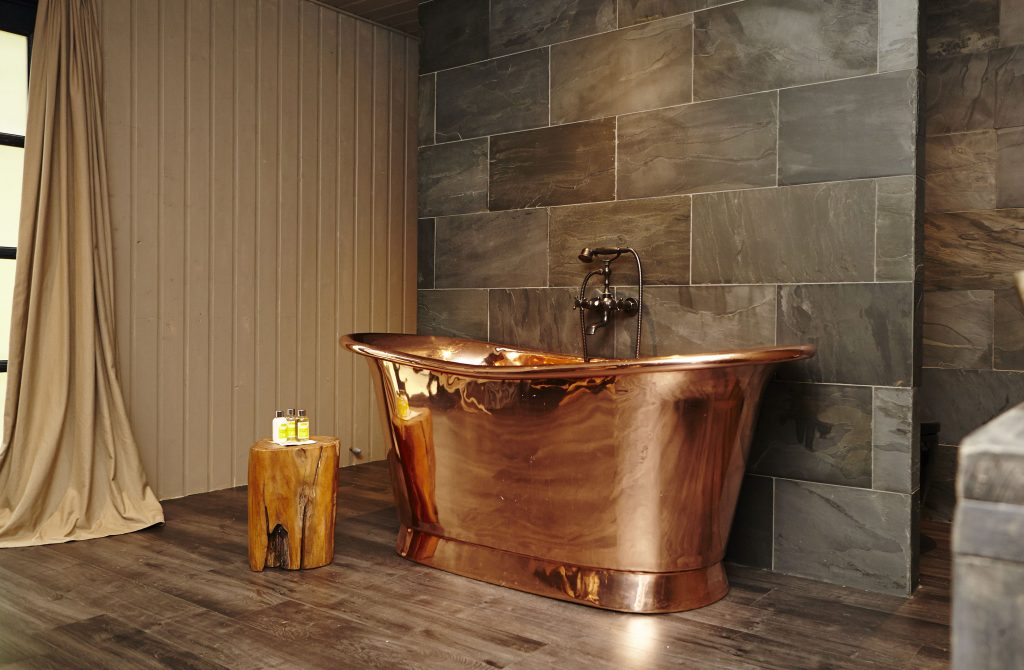 Featuring eight timber cabins, each nestled in their own perfect pocket of pristine primary woodland, the suites contain all the elements required for an intimate, relaxing boutique experience completely immersed in nature. Rustic four poster beds lovingly handcrafted from tree boughs and spa style bathrooms complete with luxury organic locally produced bath products and William Holland copper baths, all add to the unique exclusivity of the experience, whilst the cosy wood burning stoves and bathroom heating create cabins that are seasonally glorious all year round.
For more information visit: The North Star Club
With so many wonderful UK destinations just waiting to be explored the British Holiday is not a consolation prize, it's the dream!