Leave your cares behind, grab your wellies and head to Dorset for an off-grid experience with all the comforts of home.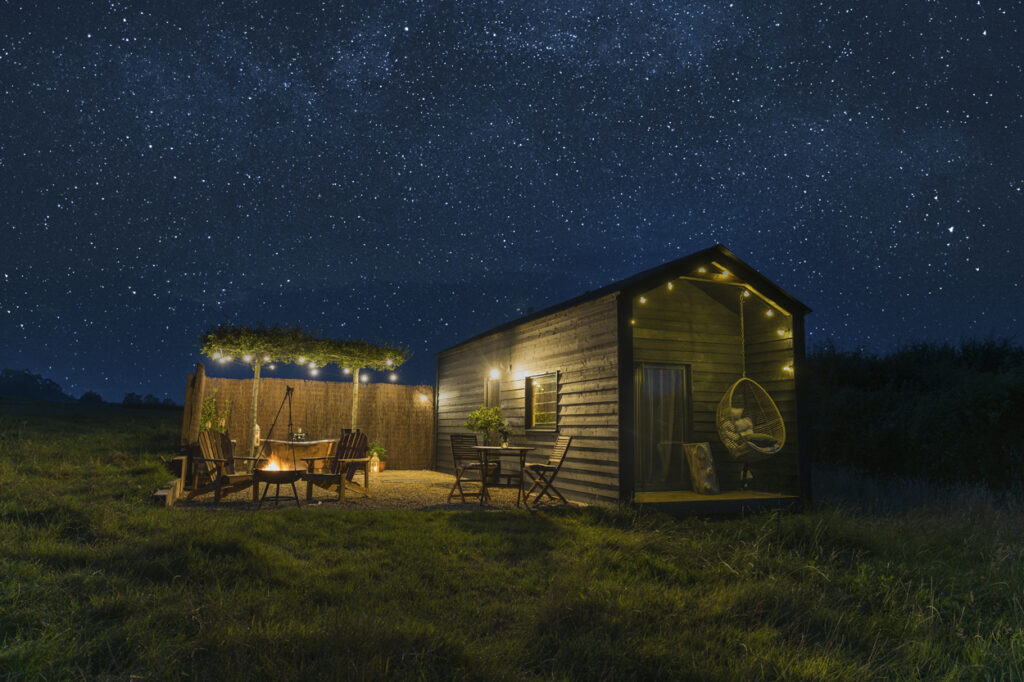 Nestled in a quiet corner of Colber Farm The Heron is a unique 'Tiny Barn' created and managed by owners Jon and Hannah. Designed to provide guests with the full off –grid adventure, back to nature vibes combine with luxury to create a magical escape from the everyday.
A 10 minute walk down a hidden, scarcely used public footpath takes you to your very own field with breathtaking views over one of the Prettiest corners of Dorset. There… tucked away by a seasonal wildlife pond rests 'The Heron'… an utterly private retreat, just waiting for your adventure.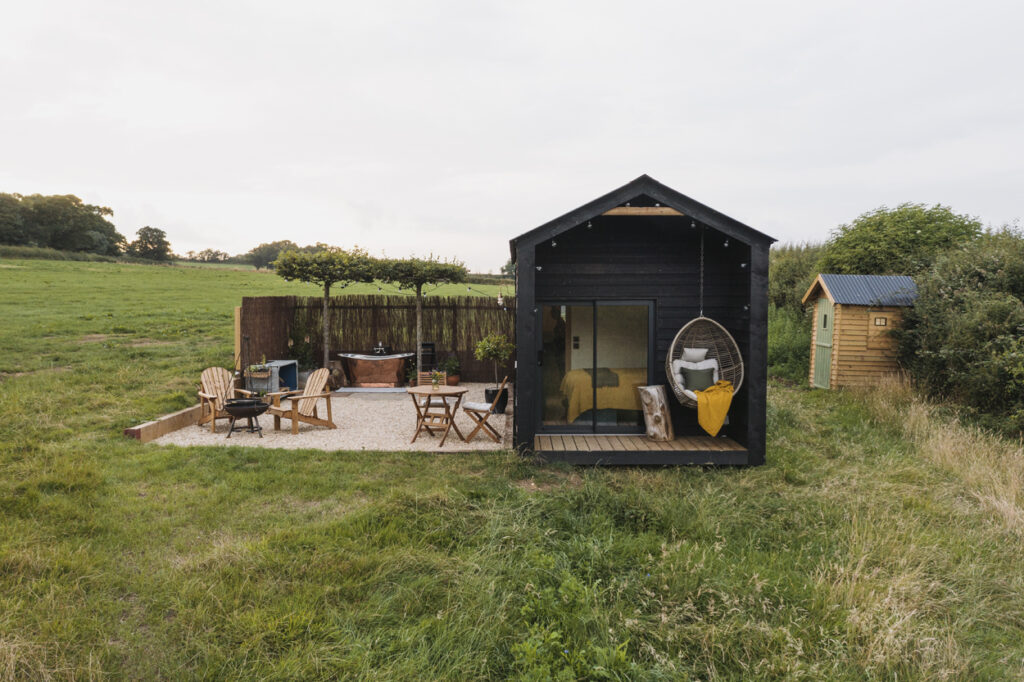 Start your holiday in perfect off grid style with a locally sourced breakfast waiting for your arrival. Cook your Dorset sausages, bacon and mushrooms in your fully furnished barn kitchen or add to the experience and alfresco dine as you cook up a storm on the fire pit outside.
It was important to Jon and Hannah to create a space that was both wildly romantic and sustainable which is why nature and luxury blend so seamlessly in this idyllic venue.
Outside, beneath a canopy of vibrant fairy lit foliage rests a magnificent copper bath. Made for romantics and perfectly designed for two this stunning work of art is handmade from pure copper. Natural, sustainable and stunningly decadent, this luxurious bathtub allows guests to while away the evenings as the flames of the fire pit flicker and the starlit sky appears.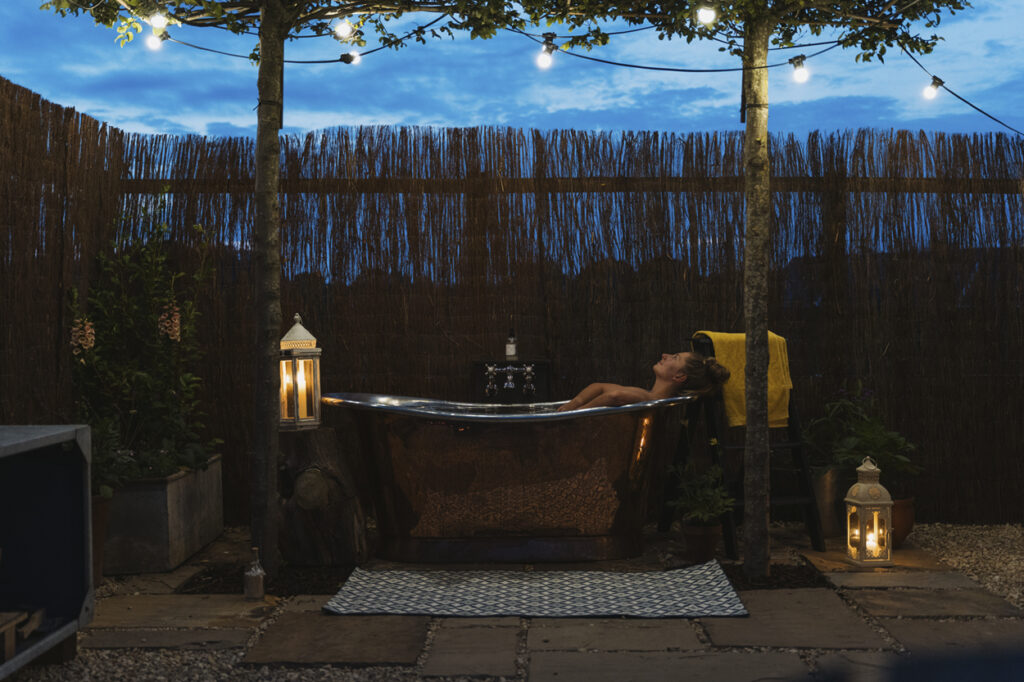 "This bath epitomises the escapism our guests are looking for when they come to stay at The Heron. After all what could be better that soaking your worries away in a beautiful outdoor copper bath surrounded by nature.  Thank you William Holland, it's a thing of beauty!"
An integral part of the experience, bathing beneath the wide open skies in perfect privacy is the ultimate way to slow down, reconnect and unwind.
And if you're worried about the infamous British climate spoiling the fun, don't be! These copper baths are amazingly heat retentive so come rain, shine, or glittering snow this outdoor bath will stay warm and cosy. Some would even say the worse the weather the better the bath!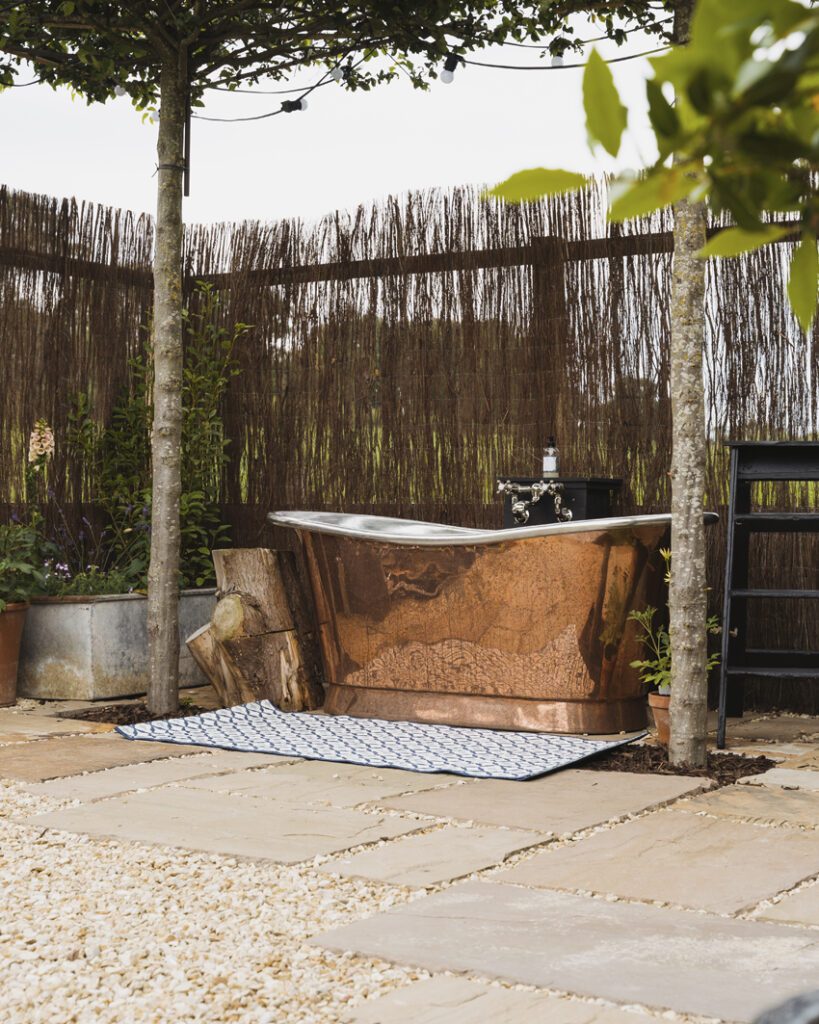 Inside, the diminutive delights of The Heron continue with a fully equipped kitchen, sumptuous bed and en-suite shower room, all kept lovingly cosy by the wood burning stove.
With days spent exploring the local area, relaxing in the Dorset countryside watching the flourishing wildlife and the world go by, followed by evenings immersed in the copper bath and bathed by stars, there is no better place for a rejuvenating escape.
For more information visit Farmstead Glamping