With hope on the horizon and the sweet promise of freedom whispering on the breeze, thoughts are turning to the world beyond, and with travel an ever approaching reality, where better to start than the fantastical paradise that is Villa Treville.
The former home of Franco Zeffirelli, Italy's celebrated opera and film director, this unique destination nurtures an atmosphere of culture and creativity. Often visited by writers, singers, musicians, painters, actors and intellectuals from around the globe, with a guest list including Elizabeth Taylor, Laurence Olivier, Maria Callas and Elton John, the Villa has become a local legend on the Amalfi Coast.
Originally purchased in the 1920's by Mikhail Semenov, the Russian writer was the first to inspire the cultural melting pot that now characterises the region of Positano. Lovingly refurbished and further developed under the artistic direction of Zeffirelli during his 35 years in residence, the addition of idyllic gardens, secluded moonlit terraces and a magical world of hidden pools, created a world described by Zeffirelli's Biographer as "just possibly, the most beautiful place on Earth."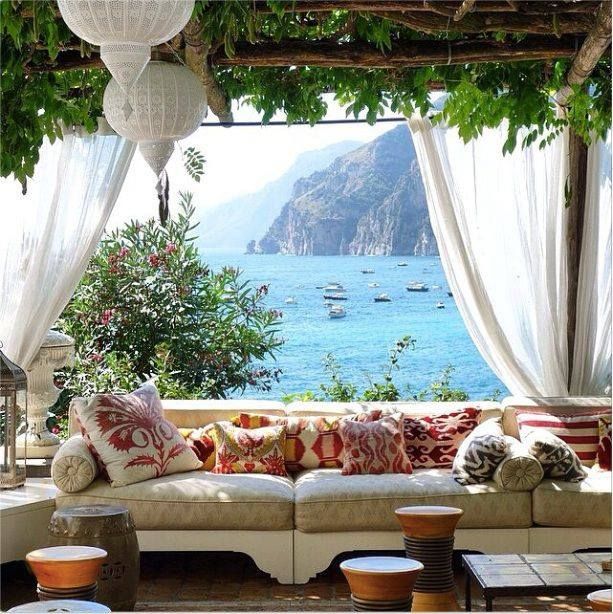 Fast forward to today and the fantastical world of Villa Treville is now a luxurious boutique hotel. Perched among a vertical tapestry of Cliffside Mediterranean forest in the enchanting town of Positano, 16 suites spread throughout four villas each with views over the deep blue Tyrrhenian Sea  comprise the estate. Named and decorated by Zeffirelli himself, each room represents an iconic guest or operatic work, from the Carmen, Nureyev, Nijinski, Romeo and Giulietta to the Maria Callas, each luxurious suite provides a unique blend of relaxed opulence, carefree creativity and eclectic design.
The rooms represent the flamboyant style of the creative owners and guests, but also celebrate exquisite craftsmanship. Featuring  Neapolitan furniture, Vietri tiles, Murano glass and many works of art from local artists, every detail is an artistic delight. However it is the coveted Bernstein suite that holds the most tantalising surprise. Tucked away on the private terrace surrounded by lush tropical forest rests a private oasis where guests can indulge in blissful luxury. Here, guests can rejuvenate beneath decadent rainfall showers, relax beneath the dancing forest shadows and glimmering sunlight or immerse themselves in the opulent spa copper bath beneath a canopy of leaves and stars. Handmade by William Holland using ancient traditional techniques, this pure copper bath aged in tune with the environment to present a stunning vibrant Verdigris exterior combines the heritage of artisan tradition with a luxurious back to nature vibe. Liberatingly romantic, the outdoor spa at the Bernstein suite exudes a passionate zest for life.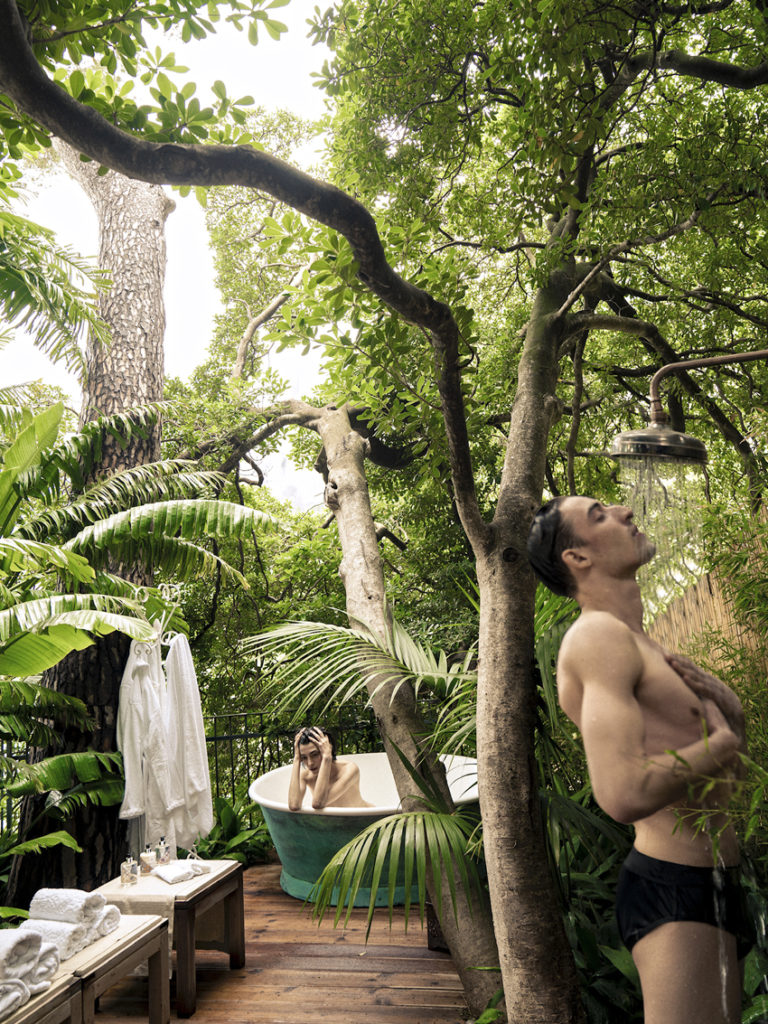 Image by Leonardo Corredor
The joy of Villa Treville is that throughout its transformation into a hotel of global renown, the current owners have preserved the decorative and historic legacy of this idyllic destination. Retaining a perfect sense of relaxed intimacy, guests come here to find solitude, privacy and escapism in this Cliffside utopia. Retaining original quirk and charm, magical and surprising spaces abound in this alluring retreat. The extraordinary arches of the magnificent bread oven have been converted into a sky lit, soaring shower, an eccentric greenhouse crafted from part of the set for Zeffirelli's production of La Traviata has been adapted for use as accommodation and the myriad of reclusive spots set along the dappled garden pathways make for an enchanting and peaceful oasis.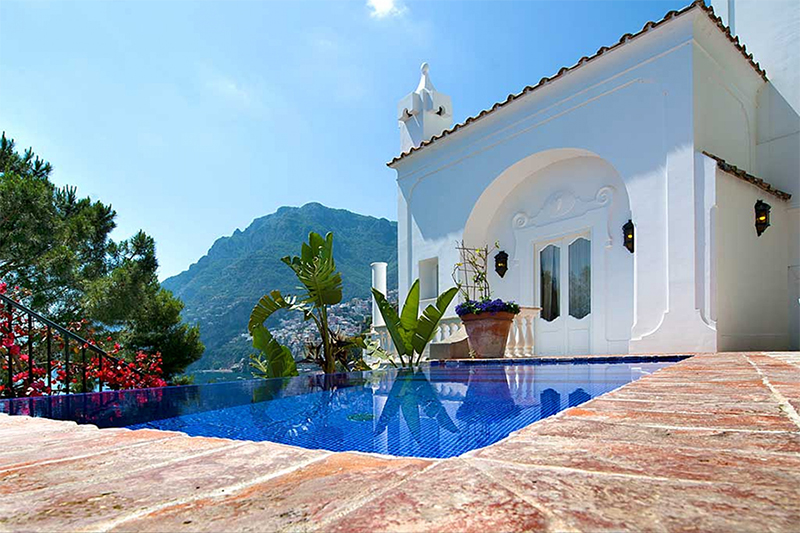 As for Positano itself, this ancient town filled with more stairs than streets, hugs the majestic cliff and gazes down onto the bright waters of the enigmatic curved bay below. With picture perfect pastel houses, overflowing lemon groves and winding roads the region conjures images of a golden age reminiscent of Audrey Hepburn's Roman Holiday, complete with vintage sports cars and chiffon scarves billowing in the breeze.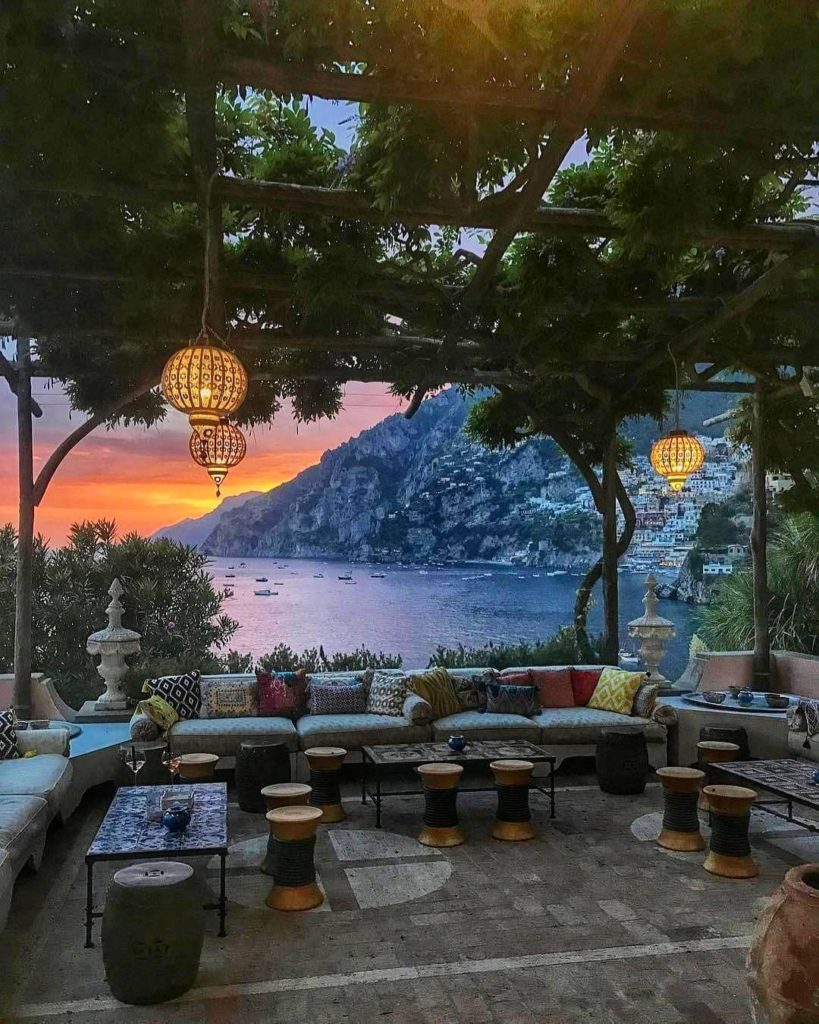 Gazing from Villa Treville's vine covered terrace as the sun goes down, has to be one of life's finest pleasures, to stay in this Mediterranean retreat a once in a lifetime joy. Immersed in the colourful, vibrant past of this historic destination, dining by the open fire which Franco Zeffirelli used to work and entertain his friends beside, before returning to your decadent suite is a memory in the making. All of this completed with a return to the copper spa bath immersed in starlit skies and you have a retreat that dreams are made of.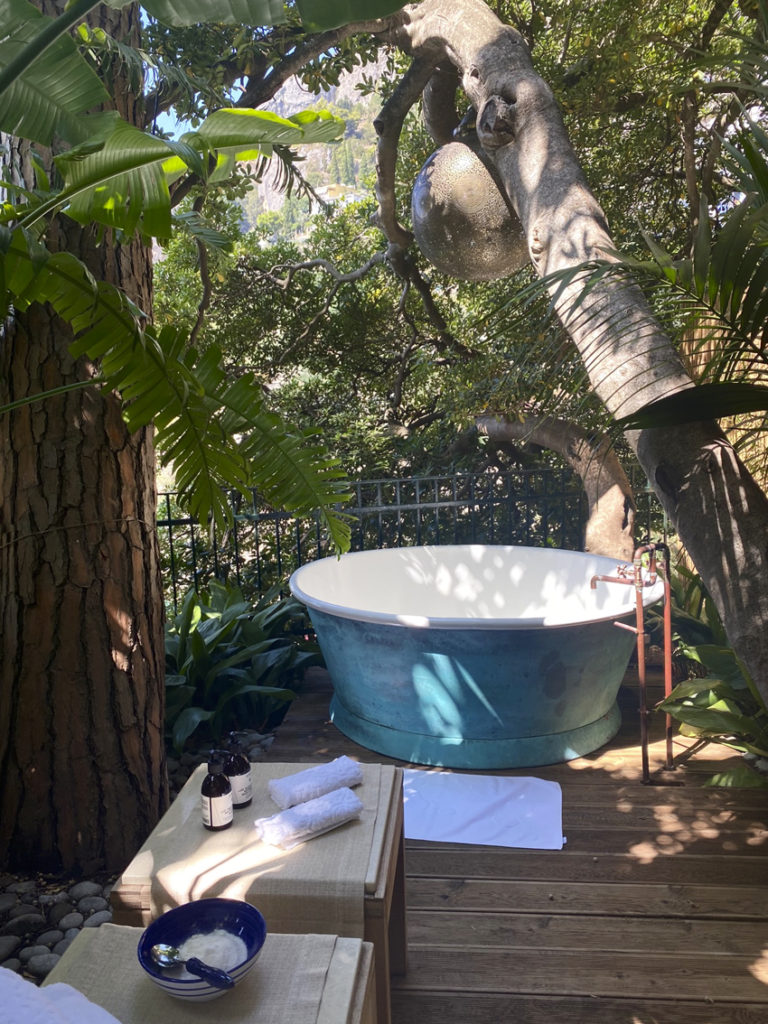 To learn more about this magical destination visit: Villa Treville