Decorex International 2019 was a symphony of nature inspired design. Featuring wild prints, flowing lines, and botanical themes, the collaboration of craftsmanship and nature created an exotic blend of organic style.
From textiles and furniture to Sculptural installations drawn from the magical forms of the natural world, the show proved beyond a doubt…
'There is no better designer than nature.' – Alexander McQueen
So embrace the wilderness and free your wild as you join us on an exploration of this year's show highlights…
Ginger & Jagger – Pebble Stool
Launching their Earth to Earth collection, Ginger & Jagger have captured the sculptural wonder of nature through their minimalist designs and exotic natural materials.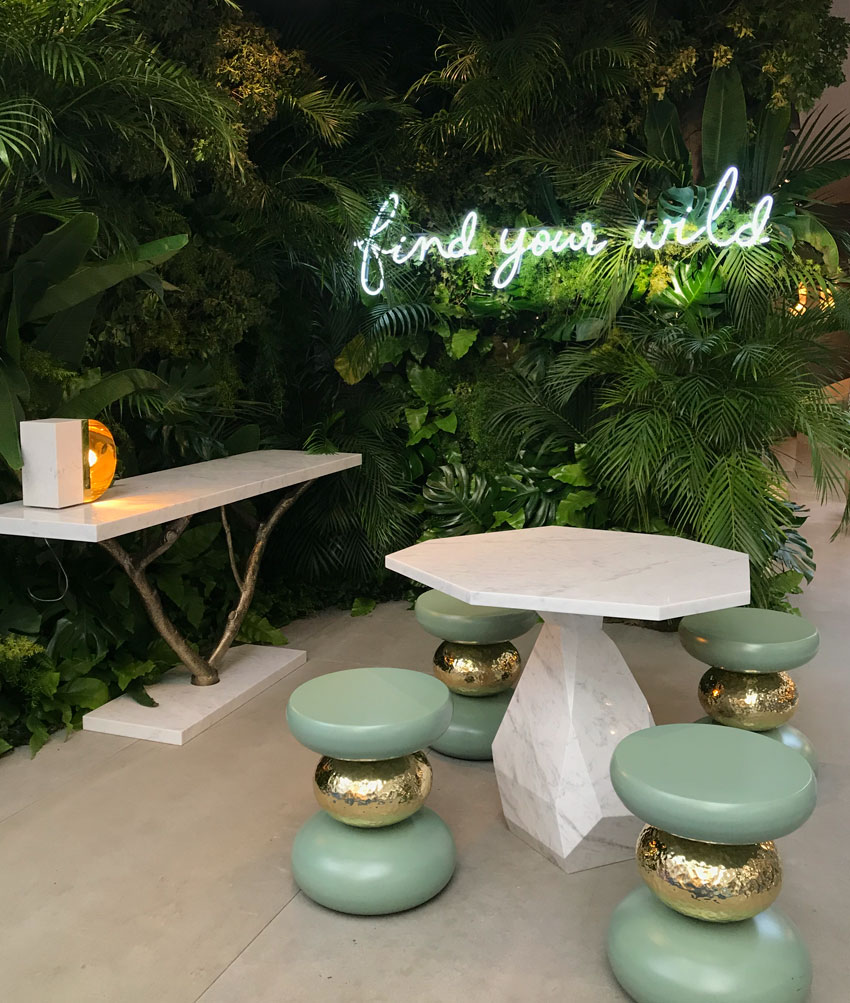 Blending marble, brass, copper and wood using artisanal techniques and unique craftsmanship, the result is an organic range full of poetry and narrative.
With every piece meticulously handmade, each individual creation from their Earth to Earth Collection is beautifully unique.
For more information please visit Ginger & Jagger
Tom Faulkner – The Papillon Collection
Partly inspired by Tom Faulkner's trip to the Joshua Tree National Park, where the interplay between ancient boulder formations created an extraordinary poetry of lines, the Papillon Collection unfurled into this exquisite contemporary range.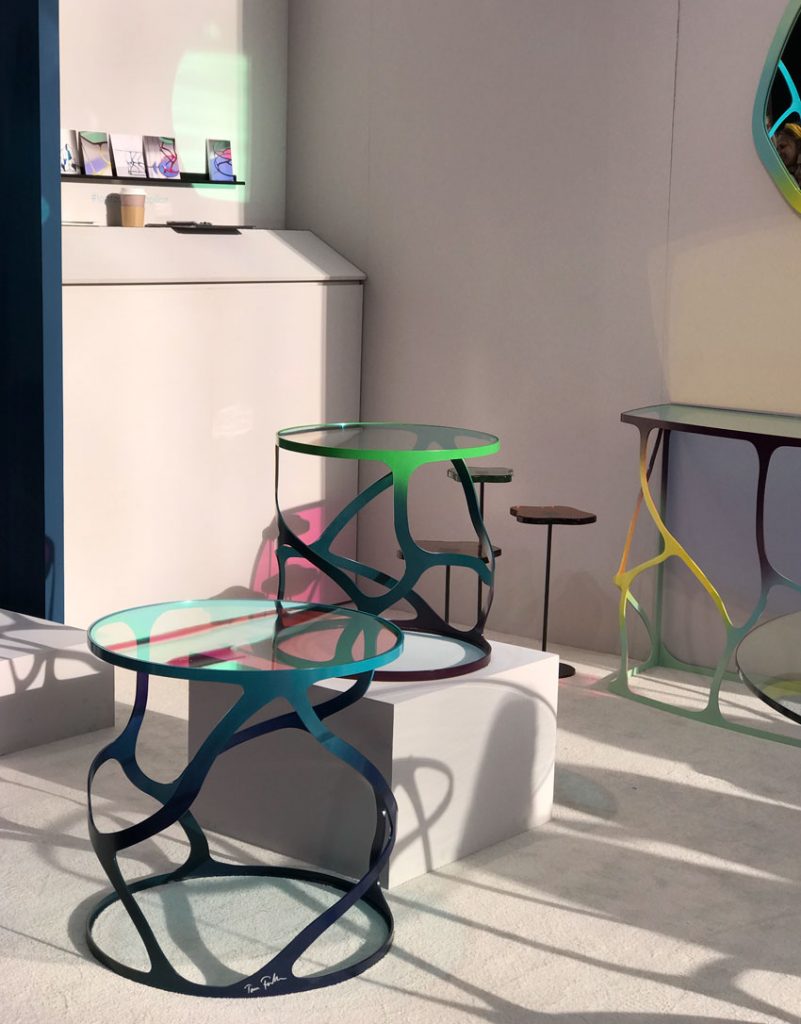 Like the delicate veined wings of a butterfly, organic lines made from water cut steel and aluminium available in several seamlessly blending colourways, Papillon combines strength and delicacy with the vibrant palette of a Californian Sunset.
Add to this, iridescent glass which transforms and shifts with the light in a playful exchange and you have a collection that captures all the wonder and magic of nature.
For more information please visit Tom Faulkner
Serip Organic Lighting – VOA Collection
Inspired by the balletic flight of the enigmatic Barn swallow "Hirunda Rustica" these stunning handcrafted lights create an enchanting dance of shadow and light.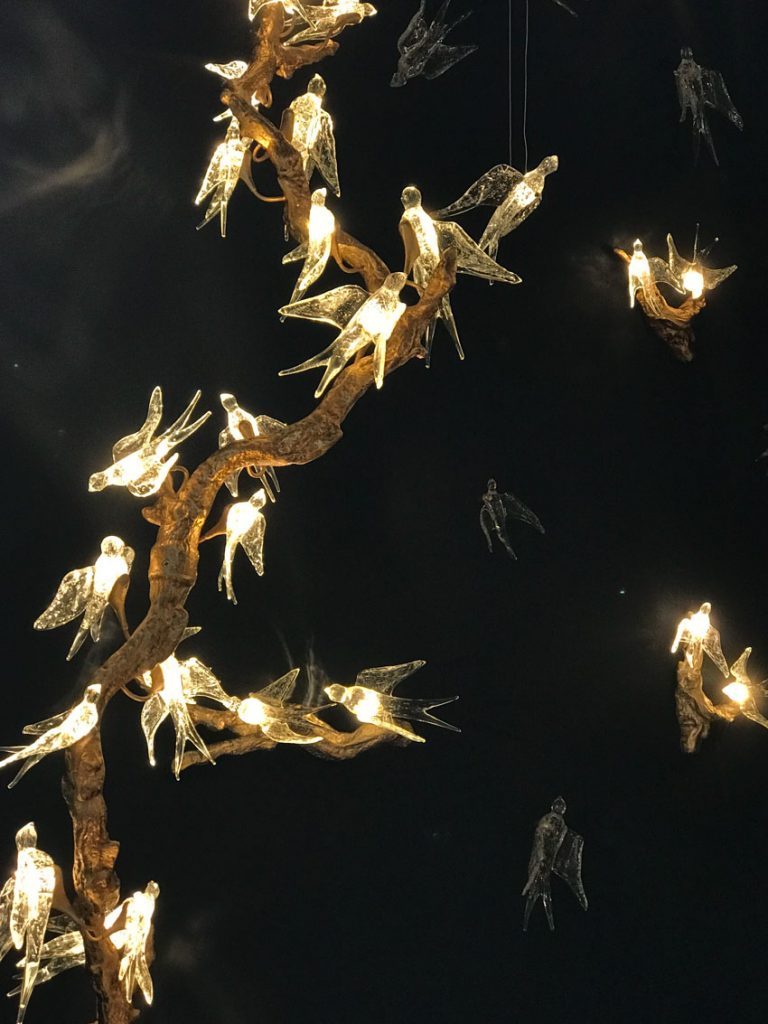 Suspended in glimmering aerial installations, or alight in the textured angles of a branch, these delicate icons of Portuguese nature capture beauty and movement in a dramatic display.
Serip Design's signature is the creation of fluid, organic, nature inspired lighting. With their emphasis on craftsmanship using artisan techniques, every form is stunningly exclusive and a unique handmade creation.
For more information please visit Serip – Organic Design
Blackpop  and Donya Coward (The Textile Taxidermist!)
An independent British label, Blackpop specialises in elegantly distressed fabric, wallpaper and upholstered furniture.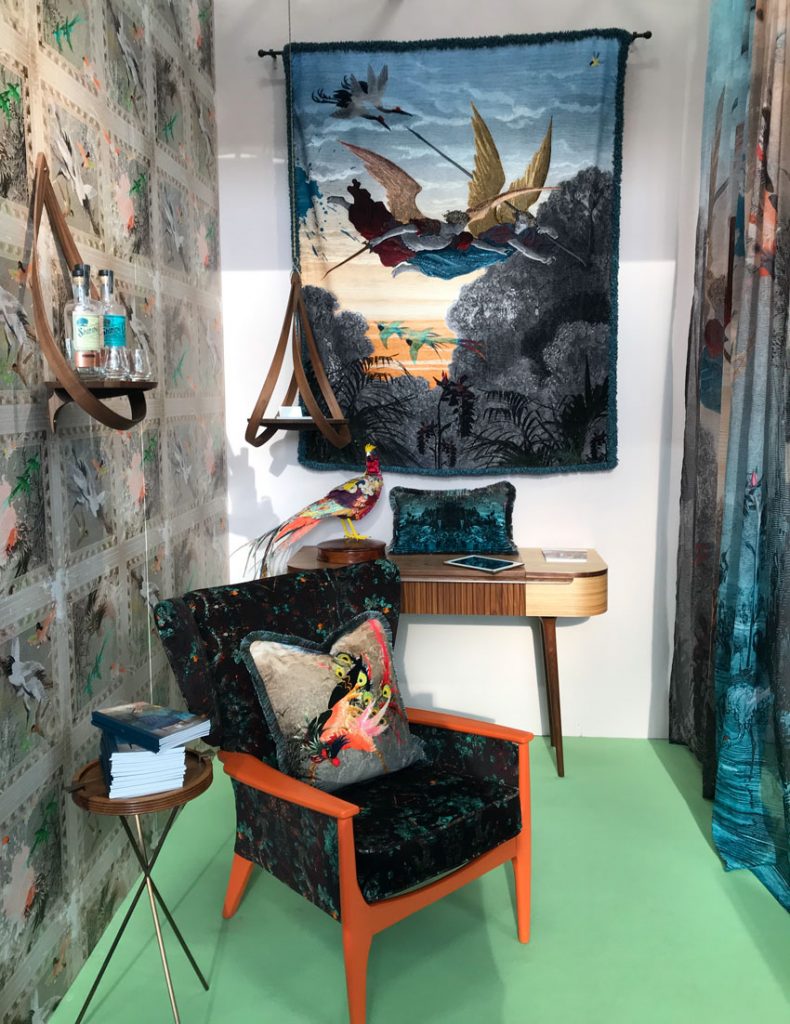 With colours ranging from autumnal palettes through to vibrant florals and featuring magical natural elements, their organic works have a fluidity of movement that brings life to interiors. This year they paired with the fantastical Donya Coward (The Textile Taxidermist) who creates magical creations from the animal kingdom.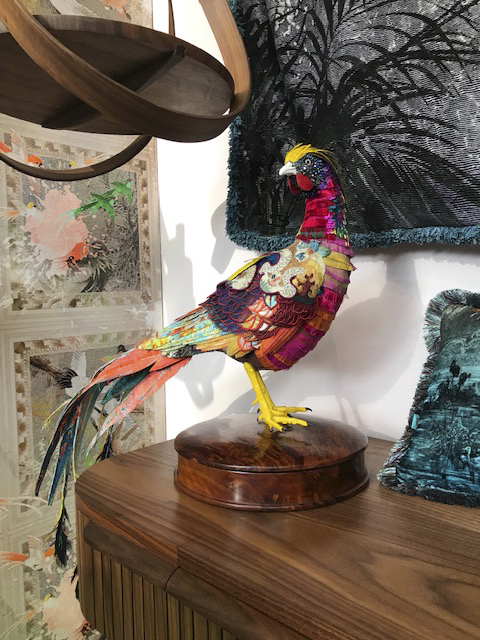 Using textiles and beadwork, centred around a single piece of unique antique applique, each creation is completely bespoke, combing artistry, nature and a touch of mythological magic thrown in.
For more information please visit Blackpop and Donya Coward 
 Unit 89
A master creator of stunning porcelain works, Unit 89 is an authentic collaborative journey between the artist, the material and the concept. Designing emotive installations, each organically constructed piece forms part of a collective that brings character and experience to a space.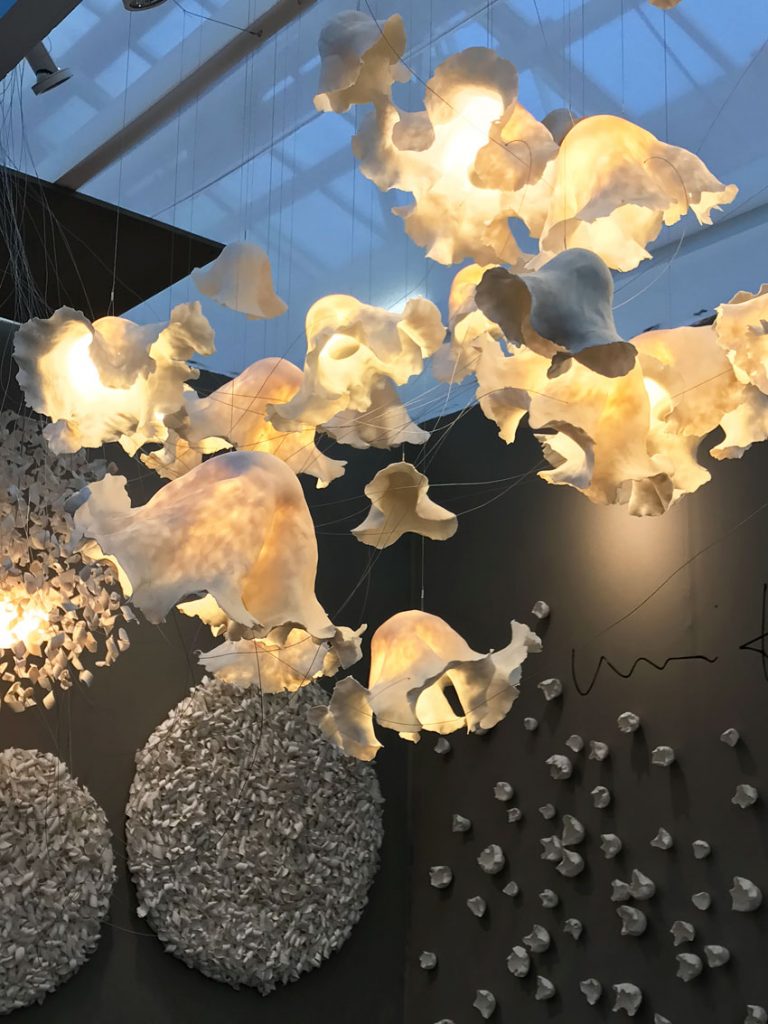 The artists abstract intention, invites viewers to interpret the works through their own perception adding an additional collaborative layer between the creator and the audience.
Perfect in their imperfection, each element is crafted entirely by hand and so beautifully unique. The aesthetic fragility belies a strength synonymous with nature, and the organic shapes and neutral palette lends a calming, reflective ethos to the work.
Crafted entirely by hand from unglazed porcelain, the addition of stoneware, oxides and crushed marble create beautiful nature inspired variations in tone, with the pure natural materials lending a sincerity and honesty to each bespoke creation.
For more information please visit Unit 89
Fablon Luxury Carpets
Our final highlight for the show and one that could not be missed via fashion or interiors is the return of animal print! Wild and vivacious, heralded by catwalks as the new 'neutral' these daring designs are now a dominant force in the interiors scene.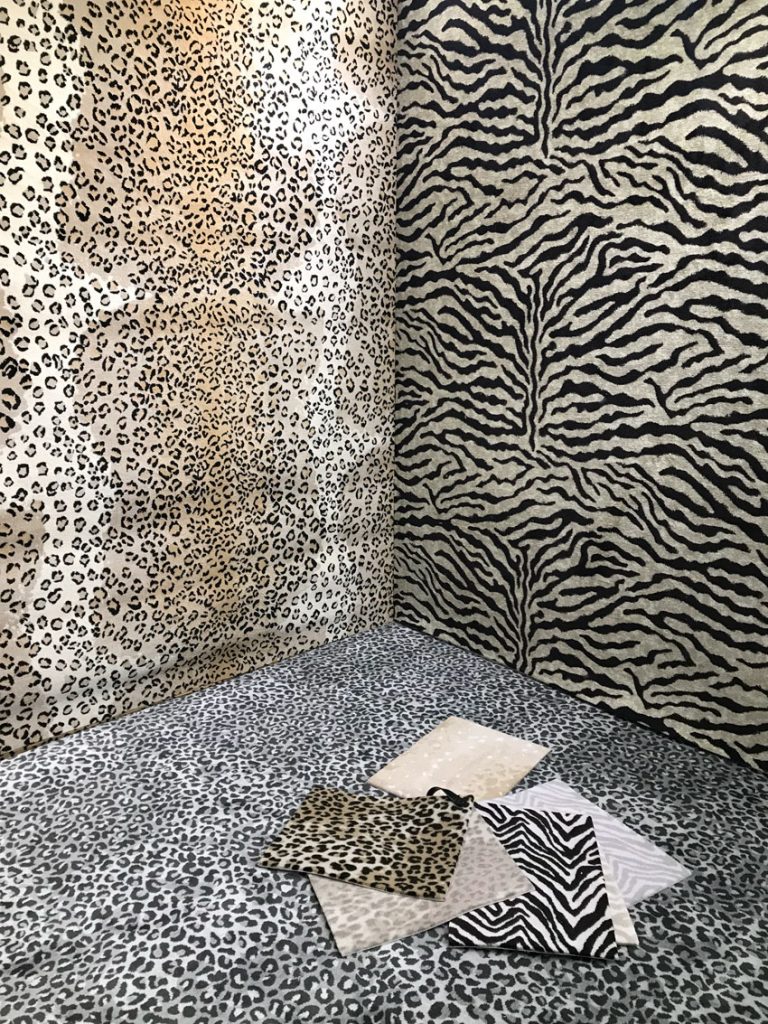 Showcased to perfection by Fablon Carpets, their luxurious range of animal print carpets stole the Instagram show. Crafted using the finest yarns by highly skilled artisans their designs remain at the forefront of interior style.
Combining luxury, with glamour and a hint of adventure, these bold statements are the ultimate invite to 'take a walk on the wild side!'
For more information please visit Fablon Carpets
As the appreciation for nature combines with the global movement to protect our environment, the impact on interiors, trends and design is clear. From natural materials through to sustainability, style is now firmly intertwined with the natural world as we seek to capture a touch of the wild in our homes.
Decorex International is the world's leading interior design show. For details of next year's amazing event visit https://www.decorex.com/