Located in the very heart of the Island, the Charisma Hotel Mykonos provides an immersive nurturing experience for creatives, explorers and athletes. Created from the ancient stones on which the venue was founded, the hotel blends into the hillside with an organic beauty that inspires a sense of grounding.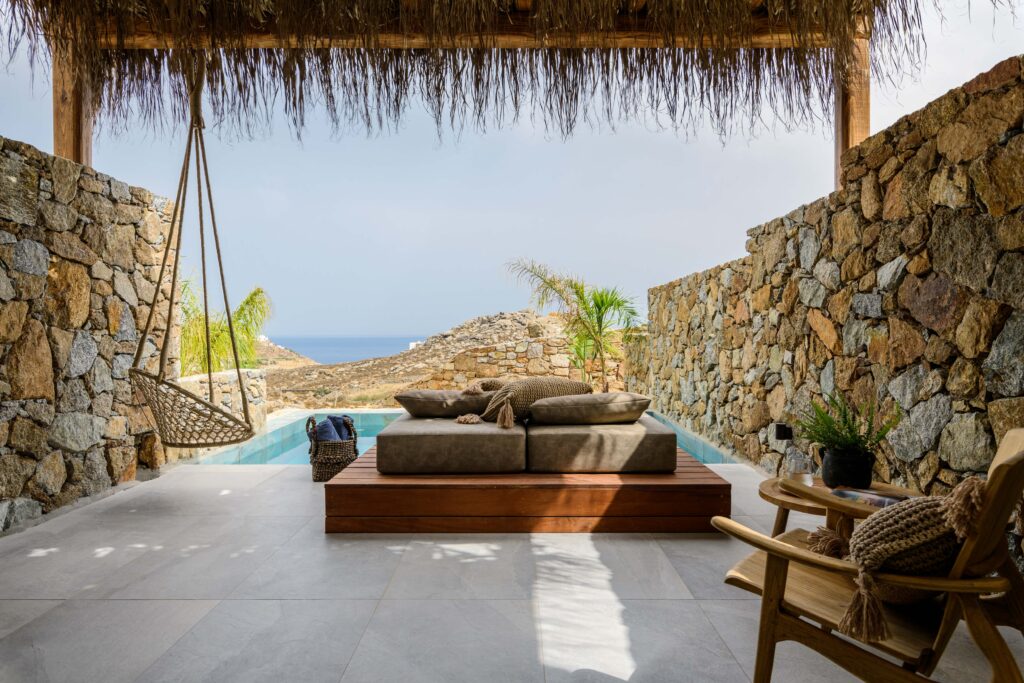 With a deep connection to the landscape, the materials selected for this unique destination draw inspiration from the rich tapestry of colour, tone and texture found within the natural beauty of this hidden valley. Travertine marble, slate and cobblestones adorn the floors, wood and bronze adorn the interiors and layers of peeled natural willow create a living sculpture across the enigmatic reception ceiling. Complementing the vibrancy of the turquoise Bali stone pools that feature throughout, the result is a tranquil, harmonious environment that whispers rejuvenation.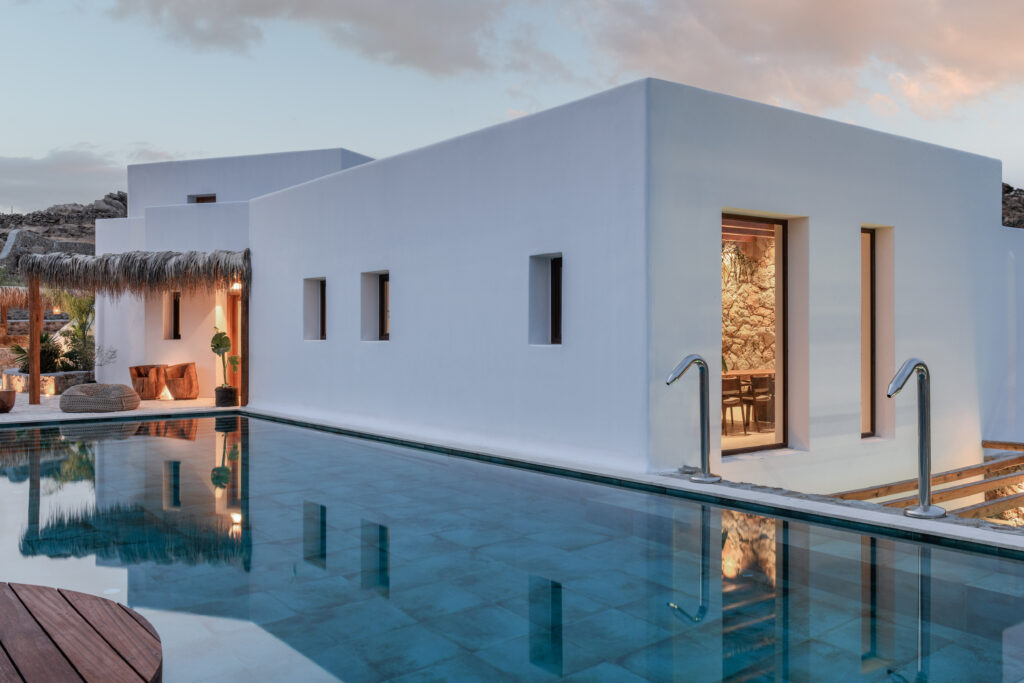 Eight of the hotel's 12 luxurious suites are housed on the ground floor, where each comes complete with a private garden and aqua stone pool to create a private oasis for guests. With stone walls hewn from the valley floor, panoramic views of the local landscape blending with the deep Aegean Sea, each room also holds a magnificent handmade Copper Bath.
Selected due to their natural beauty, eco-conscious vibe and pure decadence, these bathtubs lend the perfect finishing touch to the nature inspired interiors.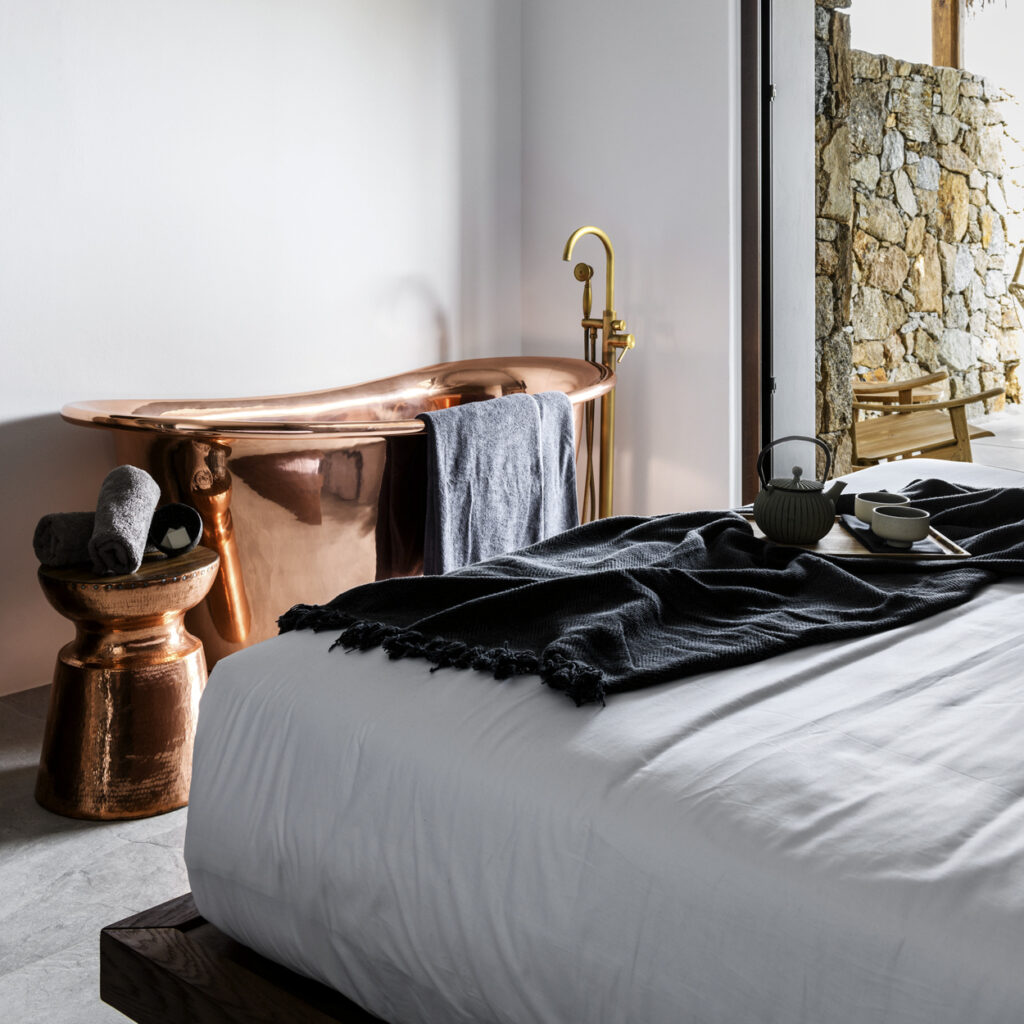 "The main reason the architects selected the copper baths was as a natural raw material which featured as a standout object in the rooms. The handcrafted luxury tubs act as a functional work of art." – Charisma Hotel Mykonos
Handmade from pure copper, the tactile and emotive beauty of these baths brings complete luxury to the concept of rehabilitative wellness. With sophisticated, organic lines these bathtubs represent the art of 'perfect imperfection' that characterises this destination, embracing the beauty of the unique and charm of the artisan.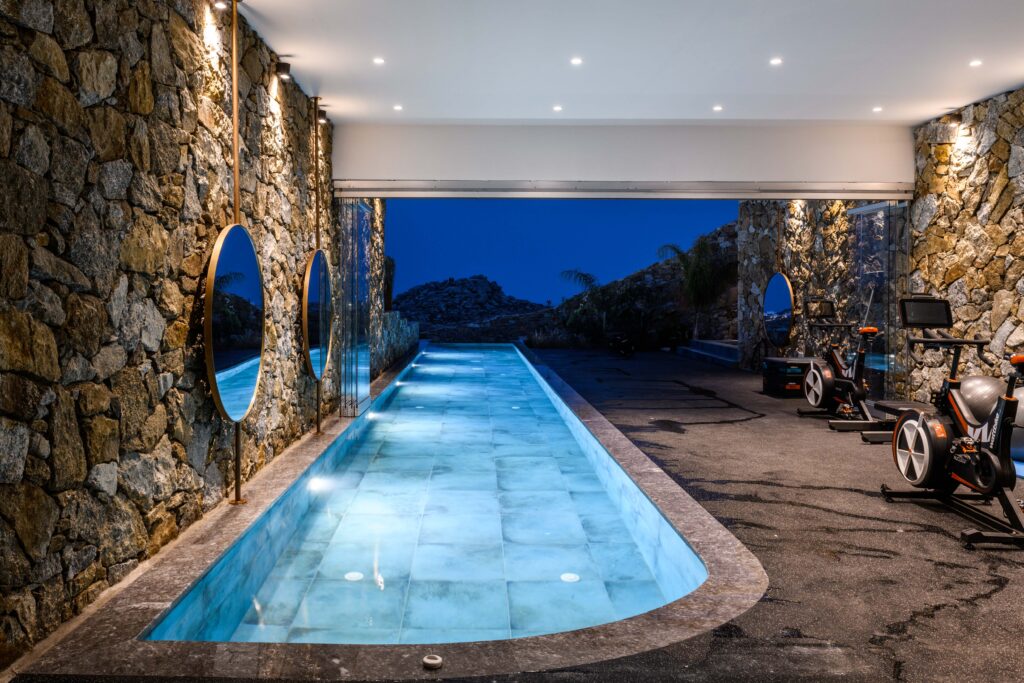 With exceptional architecture, creative interior design and an unrivalled location, Charisma is undoubtedly a stunning retreat. But… it is also so much more. More than a luxury boutique resort, more than a sanctuary, more than an escape. Charisma is a concept that redefines the Mykonos experience.
With state of the art gym equipment both indoors and outdoors, as well as hydrotherapy pools, Hot Tubs and Hydro Massages to ease sore muscles the Charisma Hotel has been built to satisfy the requirements of professional athletes as a complete solution for wellness and training.
Connective, grounding and infused with peace, the philosophy of high-end hospitality, wellness and culinary expertise fills this destination with a sense of health and tranquility. Combined with exceptional training facilities, panoramic views of the vibrant Aegean sea and the breath taking surroundings, and you have a destination that is an experience all within its own right.
For more information visit : Charisma Hotel Mykonos